With the COVID-19 pandemic still not entirely behind us, a lot of us are still left quarantining in our homes.
For those of us lucky enough to have our grandparents in our lives, this is probably especially true for them since their age group leaves them more susceptible to complications from the virus.
Even if it's not yet safe to visit Nana and Pop-pop, a great way to let them know you're thinking of them is to send over a gift.
Whether you're missing out on a birthday, a holiday or just the chance to say, "I love you," there are ways to celebrate your grandparents in a thoughtful and meaningful way.
From cozy socks to soothing oil diffusers, here are nine safe gift ideas to send to your grandparents.
1. Send over a Gift Card for Groceries or Help them Get set up with an Online Delivery Service.
Whether your grandparents are staying home for health and safety reasons or they're just a little less mobile than they used to be, help make sure they have all the essentials they need by gifting them a week or two's worth of groceries.
You can connect with a local grocery store in their neighbourhood to see what kinds of delivery options are available or set them up with a meal kit delivery service to make food prep easy.
2. For the grandparent who likes to treat themself, a mani-pedi kit is the next best thing to a trip to the salon.
If their local salon is closed due to the pandemic or they have a hard time getting out of the house for their regular nail appointments, pamper them with all the mani-pedi essentials they need to enjoy a self-care session.
Emery boards and nail polish are effective and safe to use.
3. Curate some cozy items for the grandma and grandpa who prefer to stay home anyway.
Even before all this, some grandparents prefer to stay home and watch their shows rather than go out and adventure.
If yours are like that, why not put together a nice collection of cozy items for them to kick back and relax in?
Put together a gift basket of cozy socks, a fluffy robe, loose-fitting loungewear and some cute slippers so they can enjoy their peace and quiet in comfort, too.
4. If they love to read, ship them a few classics or even some new pieces you think they'll enjoy.
There's nothing like the feeling of cracking open a brand new book.
If your grandparents' prefer a classic paperback over a digital read, send collector's editions of their old favourites or a bunch of new reads to open their minds.
If you're not quite sure what they're into reading, you can always send over a gift card to their favourite bookstore so they can order their own choices (or dictate to you which they'd like so you can place the order for them!).
5. Help them continue to participate in their favorite DIY activities with gifts that inspire their creativity.
Some grandparents are really into crafting, and now's the perfect time to invite them to tackle the projects they've always wanted to try but perhaps didn't get the chance to in the past.
Send over some gardening tools, baking supplies, paints or even a journal to help them seek inspiration and make the most of their time spent at home.
6. If your grandparents are feeling a little extra stressed lately, make them a stay-at-home spa kit for them to enjoy some rest and relaxation.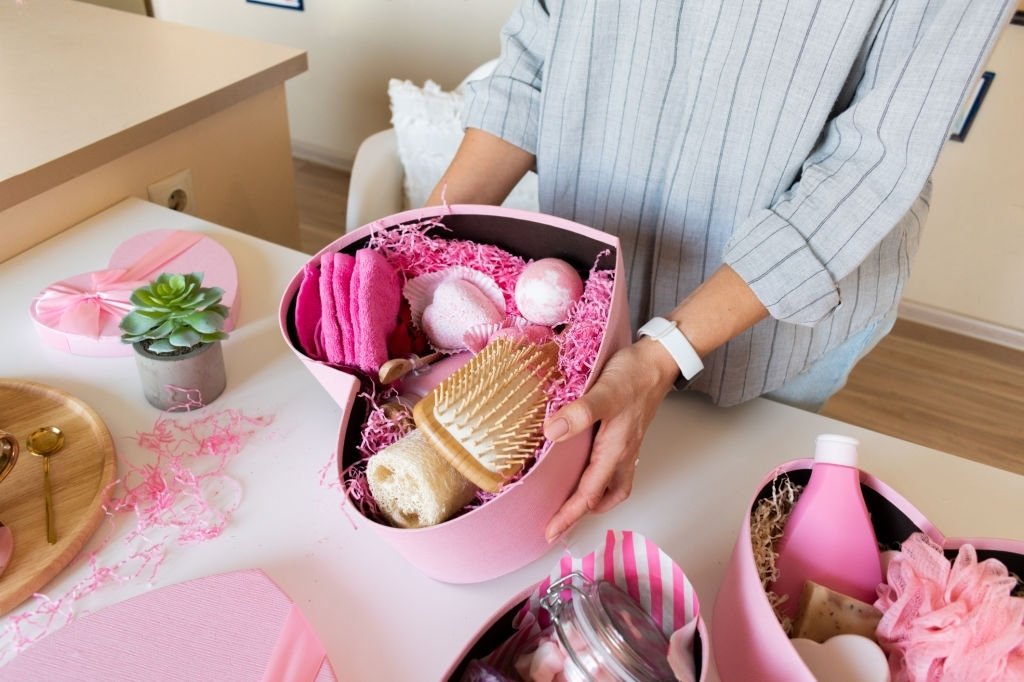 Everyone needs some pampering every now and again, especially our tired grandparents.
Put together a nice care package of easy-to-use spa necessities, like a face mask and a microwaveable compress for soothing heat to help them take some time for themselves.
Try to avoid including slippery lotions or bath products to limit the risk of falling.
7. Send them a Fragrance oil Diffuser that helps lift their Spirits.
We often rely on fragrances to remind us of happy moments with the people we love, and what better time to give your grandparents the gift of something to reminisce than when you can't be together as often as you'd like?
Send over an invigorating citrus for some energy, eucalyptus for relaxation or an assortment they can switch out with their mood.
Stick to reed diffusers rather than any electric versions to eliminate an unnecessary fire hazard.
8. Sign them up for a fun subscription service they can enjoy month after month.
Especially if it'll be a while before you see each other next, give your grandparents something nice to look forward to each month.
Whether you sign them up for a fruit of the month club, a wine and cheese subscription box or even a clothing or jewelry subscription service, they'll get regular reminders that you're thinking of them.
9. A simple greeting card is definitely enough to make them think of you with a smile.
Of any generation, our grandparents' generation is probably the one that's most likely to appreciate the value of a handwritten note.
Not only is it thoughtful and sentimental, but it also requires the use of solid penmanship, an art form that's all but forgotten thanks to technology.
Whether you include a gift card, a check (talk about role reversal!) or let the message be the main attraction, I love you cards are probably the most sentimental gifts you could send to your grandparents.
Love You, Grandma
 Even if your grandparents are spending more time at home, you can find ways for them to know just how much you care even if you aren't able to be physically close together.
A thoughtful gift that comes from the heart and arrives at their doorstep is a safe and sweet way to let your grandparents know you're thinking of them.
(Just remember, this doesn't exempt you from picking up the phone and calling them every now and again!)