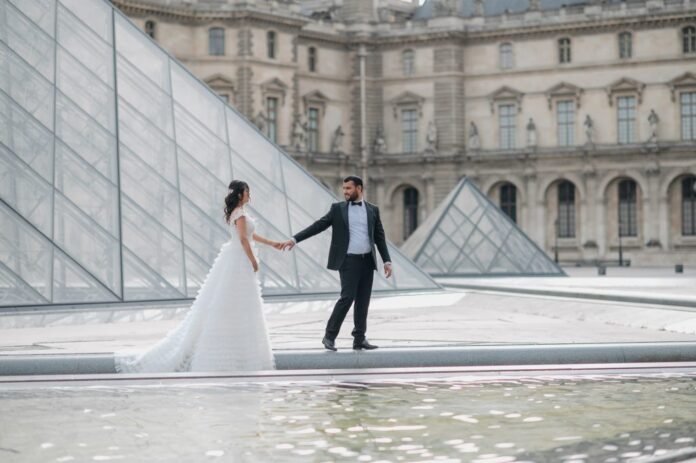 Paris is the most romantic city in the world and is breathtaking! If you find yourself getting wedding photography done in Paris, consider yourself extremely lucky.
Most people dream of getting their wedding photoshoot done in this beautiful city and for good reason.
Being a wedding photographer in Paris, I certainly know of all the best locations to have a dreamy wedding shoot on your big day.
To get the creative juices flowing, I've rounded up some of my favorite Paris wedding photography locations:
The Eiffel Tower
Starting with everyone's favourite: The Eiffel Tower! Starting off with the most popular spot in Paris and therefore the busiest.
You definitely need to have some patience when getting your photos taken here, but the results are so worth it.
You'll forever be in love with your wedding photos taken in front of the iconic Eiffel Tower.
Louvre Museum Paris
Another iconic spot for newly married couples! Being a wedding photographer in Paris, I have captured numerous couples on this spot and the pictures always leave me in awe.
The location is quite big, so gives you lots of opportunities to bring some diversity to your wedding photos.
Pont Alexandre III
If you ever search for must-see locations in Paris, the Pont Alexandre III bridge will for sure pop up!
This stunning bridge is built over the Seine River in Paris and is known for its glided famous sculptures and the overall complex design.
Palais Royal
Palais Royal is situated in the center of Paris and is often missed by visitors. This place is surrounded by other famous buildings and is therefore not that easy to spot.
Since it's hidden from casual passers-by, it's one of the most ideal locations to have your wedding photoshoot!
le de la Cité
Île de la Cité is an island in the river Seine in the center of Paris. It is known as the historical heart of the city, which is why I love photographing couples here.
Not many people know about this quaint little spot in Paris. It's filled with cute French cafés that offer you the perfect background for some dreamy wedding photos.
If you're looking for a wedding photographer in Paris, you know who to get in touch with. My name is Anastasiya and I am a photographer in Paris.
I have been working as a Parisian photographer for the last 8 years, so you can expect nothing but the best from my end.
I know so many other locations than what I've listed above and will give you all the recommendations to match your vision.