You should keep in mind that this is a very unique purchase because you will wear your wedding ring every day for the rest of your life.
And it might even turn into a legacy that you leave for your offspring and grandchildren. It's at the very least one of the most significant pieces of jewelry you'll ever possess.
Often, a couple's first significant joint purchase is an engagement ring. And when it comes to choosing how much to spend, each couple must make that decision on their own.
The well-known diamond dealer De Beers provides a helpful tip by suggesting an investment of roughly two months of wages.
Below are two of the best wedding rings. Reading about which you will definitely think once to buy them.
Hunting Wedding Ring:
If you're looking for the ideal wedding band for a hunter, look no further. This broad collection of hunting rings was created with the serious hunter in mind.
There are many different creatures, tracks, and even firearms and arrows shown on these lovely rings.
This finely designed Comfort Fit Tungsten Carbide Ring features a lovely scene of a deer skull with beautiful deer skull printing. The entire ring is covered in the engravings of this image.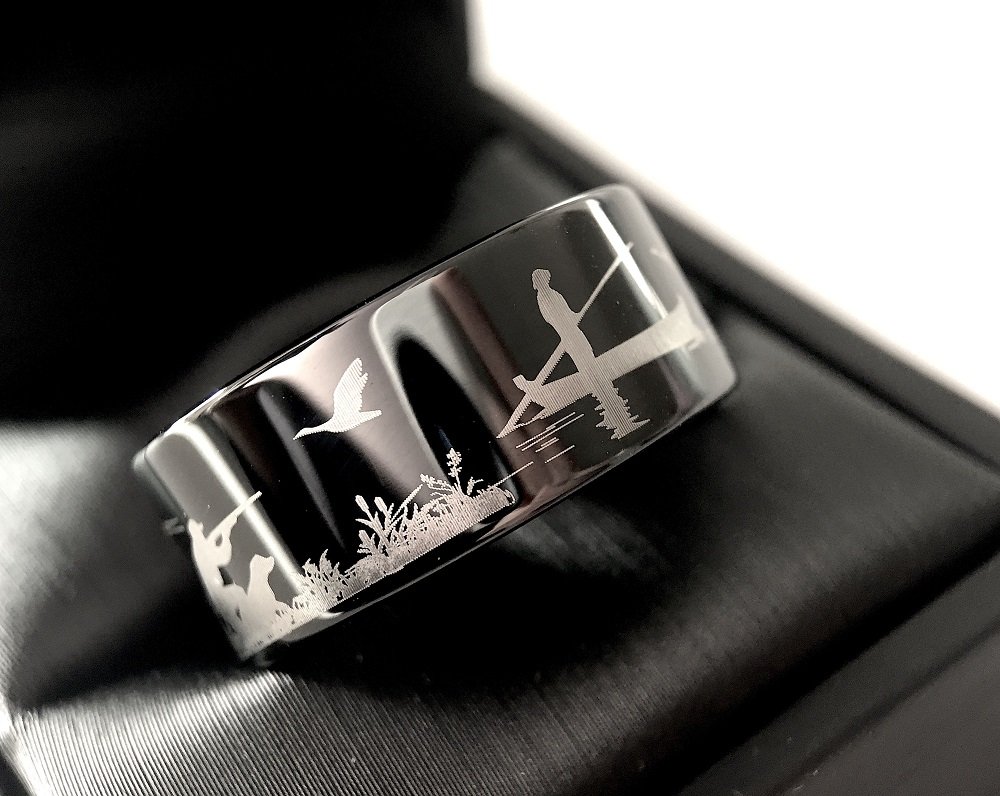 This deer skull scene ring is a part of our most recent collection of Outdoorsman scene rings in response to popular demand.
There are numerous other animal-themed rings and track rings available, including duck, bear, and wolf models, but due to high demand, this Hunting Wedding Ring with a scene of a deer skull is a very special ring for hunters at weddings.
The sizes of this ring type range from 4 mm to 12 mm, and both men and women can wear it as a wedding band or a promise ring.
A deer skull design wedding ring is a special and rare gift for hunters, especially those for whom deer is a beloved animal.
In this color, the image of a deer skull is sandwiched between two layers.  This ring is an excellent choice for hunters.
And By its brightness when illuminated, the viewer can guess that this ring can be in the hands of a hunter.
This ring is also very comfortable to wear.  And it is light enough in weight that it does not feel heavy at all.
Imprinting a deer skull on this hunter's wedding ring is also not too expensive.  It can be an outstanding choice for a wedding or engagement.
2. Pink Camo Wedding Ring: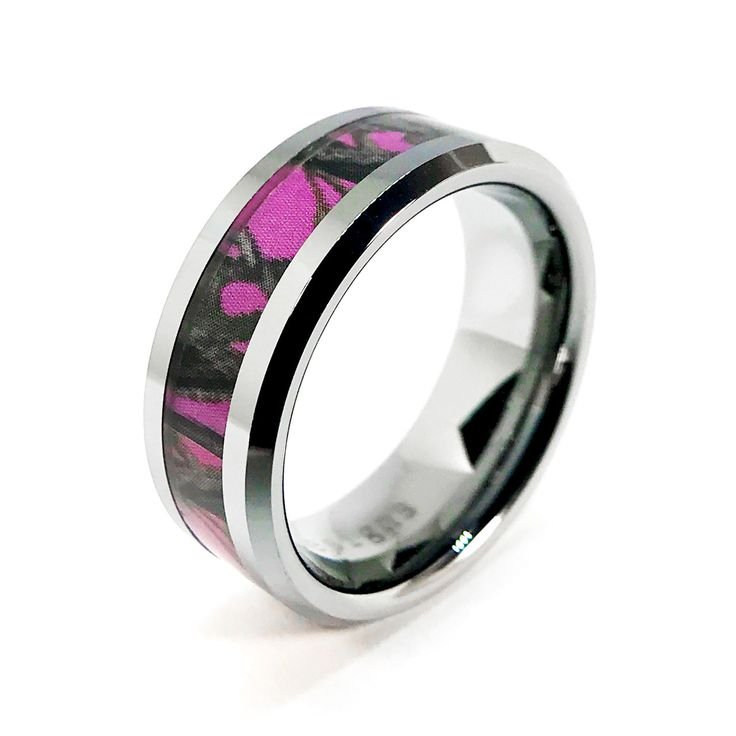 Perfect present for the outdoor enthusiasts and hunters we all know. Or the ideal wedding or engagement set for a hunting or outdoor-loving pair.
The stainless steel women's band is embellished with a pink camo design and a protective resin covering.
Women's pink camo wedding ring with a 6 mm width and a pink cubic zirconium stone is made of stainless steel. Titanium-made men's ring. Size: 7 mm.
Don't allow the outdoors, your first genuine passion, to escape your grasp! Instead, keep it there with our exquisitely lovely and superbly crafted bands, ideal for both men and women who cherish the right to bear guns as well as anything in between!
Following a thorough review of hundreds of product options, we have listed only the best of the best.
Each camouflage wedding ring is distinctive, with a range of options and styles to choose from.
A stunning description of the Pink Camo Bridal Set is insufficient to tell its beauty and features. This set of pink camo rings gives you a princess-like feeling while still giving you a hint of the outdoors.
With its authentic yet understated camo appearance, this bridal outfit blends seamlessly into the hectic wardrobe of an outdoor type.
Just enough pink is present to highlight the stone's stunning sheen and glimmer. The princess cut simulated diamond set is a 6mm cobalt engagement ring with a prong setting made of 14k white gold.
The set also includes a second band with the same Real Tree pattern inlaid on a 4mm flat cobalt band, perfect for a wedding ring.
These rings have a luxurious comfort fit to make sure they don't restrict you.
No matter what you're doing, you'll like how you look wearing these pink camouflage engagement rings.
For the best choice, you should read the relevant information about the ring in the description so that you can make the best decision regarding your choice.