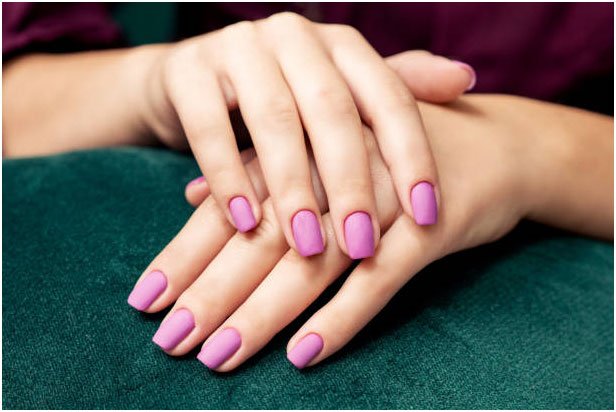 A professional manicure is a luxury for the nails. Nail care can also be done by yourself.
Learn how to get perfectly manicured nails in seven steps.
STEP 1 FOR HEALTHY NAILS: THE RIGHT DIET
Varnishing and filing are also part of nail care, but a healthy and balanced diet is particularly important for healthy nails.
Foods such as lentils and spinach, high in iron, zinc, and biotin, help prevent the nails from breaking or tearing.
The protein keratin is the main component of the nails and important for strength. Of course, lack of sleep, stress, and nicotine also impacts the health of the nails.
So, an overall healthy lifestyle will help keep your nails hard and shiny.
If a healthy diet alone is not enough, special dietary supplements also help to compensate for deficiencies.
STEP 2 OF NAIL CARE: REMOVE THE OLD POLISH
Before the new manicure, the nails must first be cleaned, and the old paint removed. Acetone-based nail polish removers aren't necessarily worse here.
Acetone-free alternatives contain lipid-replenishing substances to take care of the nail, but they also contain many chemicals needed to remove the polish.
Without acetone as a solvent, you only have to rub more.
All nail polish removers can therefore dry out the nails and cuticles. Be careful with acrylic nails: It is essential to use an acetone-free nail polish remover.
Otherwise, the artificial nails will be damaged.
Then wash your hands with warm water and use a hand brush to remove dirt from under the nails as well.
STEP 3 OF NAIL CARE: PREPARE THE NAILS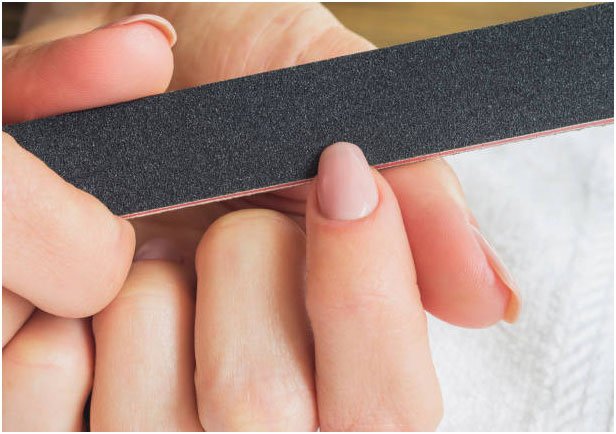 To gently handle the cuticle in the next step, it is advisable to hold the fingernails in lukewarm water for a while.
This softens the cuticle and makes the nails softer, which can then be trimmed and shaped more easily.
You will notice the same effect immediately after a bath or shower. As an additive, you can use olive or jojoba oil, which additionally cares for the fingernails.
Lemon peel oil helps with particularly brittle nails.
STEP 4: FILE THE NAILS
It is best to use sapphire, sand leaf, or glass file for this.
Metal files are not suitable because they will roughen your fingernail too much and will help it tear.
Nail scissors and nail clippers are also taboo for fingernails.
Instead, it is best to use a somewhat coarser file to shorten. For fine-tuning, use a fine-grain polishing file, which you can use to shape your nails into the desired shape after trimming.
Always move the nail file in one direction. Filing back and forth would fray the edge of the nail.
NAIL CARE STEP 5: PAINT THE NAILS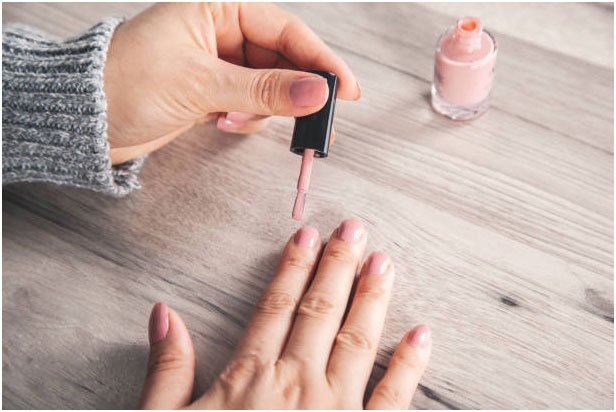 Do not paint your nails right after you shower or water bath. The heat causes the nails to swell, and when they cool, they contract again.

The nail polish would be chipped.

Before applying the color, first, apply a base coat. This protects against unsightly discoloration of the nails and improves the durability of the colored varnish.
After this has dried, the colored varnish can be applied: Start with a line in the middle of the nail and then add to the sides. Tip: If you want the nail to appear thinner, leave a little space on the sides, and do not apply varnish there. Let the layer dry and apply a second if necessary.
When the paint is completely dry, you can apply a top coat that will seal the paint and extend its life.
STEP 6: NAIL CARE STEP: DRY THE NAILS
Blow or shake hands wildly? Unfortunately, it doesn't help very much.
It is best to let your nails dry for as long as possible, but at least ten minutes so that the nail polish will last a long time.
Dry sprays are designed to accelerate this process. And cold water should also help if you are in a hurry.
You don't have to wait that long with quick-drying nail polishes, but the nail polish also splinters faster.