On social media, if you follow us then you know we love a good post on Instagram.
But we also love to recommend Instagram as an excellent place to find inspiration, trends, and tips for hair.
We shared our own top tips for loving your natural curls a few weeks ago, and this week, by posting our Top 10 curly hair influencers to follow, we're spreading the love.
1. Alex Patrick
Alex Patrick the Dominican Fashion model/ Artist from New York.
Is The face of some of the biggest brands worldwide. His curls remain picture ready and untouchable.
To see more of Alex's beautiful dreamy curly hair follow him at @iamAlexPatrick
 2. Dominique
Dominique is a little closer to home, just a hop across the Irish Sea, meaning that she has some fantastic product recommendations.
Dominique also provides some excellent curl tips, such as how to take care of colored curls, how to master the "bowl technique" and how to let go on holiday and not care.
3. Jannelle O'Shaughnessy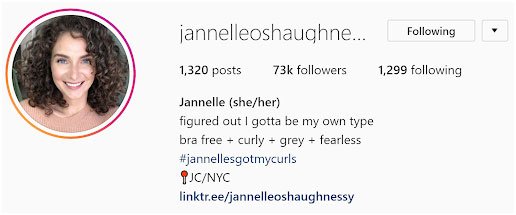 Jannelle might live all the way around the pond, but her tips for curly hair flow well.
Jennelle is the refreshing queen, showing you how to extend your curls and washdays.
She also has some valuable tips during 'you-know-what!' on how to protect your curly'
4. Lulu
With curly and wavy hair, Lulu is a perfect example of just what is possible. It's full of waves, curls, updos, straight hair, and even naked curls on her Instagram page.
A fantastic page to visit for the day, night, holidays, and even paddle boarding for lots of inspiration and style ideas.
5. Gigi
To click Follow, you just have to look at the difference between Gigi's heat, chemical, and bleach-damaged hair and the tall, bouncy and beautiful locks she's wearing today.
Gig's Instagram, while embracing her natural curls, is full of enviable holiday pictures, meals out and nights partying with friends.
6. Merian
The Instagram page of Merian, a scientist, entrepreneur and curly child, is highly popular.
Merian has some pretty good tips and recommendations when it comes to caring for and improving your natural hair, having created and launched her own curly care product line.
Her own curls will give you serious targets in terms of length, giving you even more incentive to take her advice on board.
7. MaryAnn
If you don't know Merian's hair length, then MaryAnn's Instagram page is just for you.
MaryAnn reveals how short curls are just as perfect as long curls by sporting the curly bob.
With plenty of style tips on how flexible short curls are as soon as your click follows, you will be screenshotting away.
8. Craig Mitch
To fashion blogger/model Nada Adelle, this jean-hugging, curly flat-top-rocking fella gets to wake up every morning. Enough for us to take notes and continue our way of looking.
In the modeling world, Craig dabbles, too—he models and hosts musical events in the UK.
9. Eleanor
This blog could be continued forever, but we're going to end with Eleanor. Eleanor shares all of the data you need about hair, style, and life as a content maker.
You'll click away with several tips to try out at home with plenty of videos to show her hairstyling in action.
10. Ysham
Don't touch his fro, man! But who claims that from a distance we can't admire?
Go and watch this All-American male and see how well he holds his mane intact between living a budding male model's life.