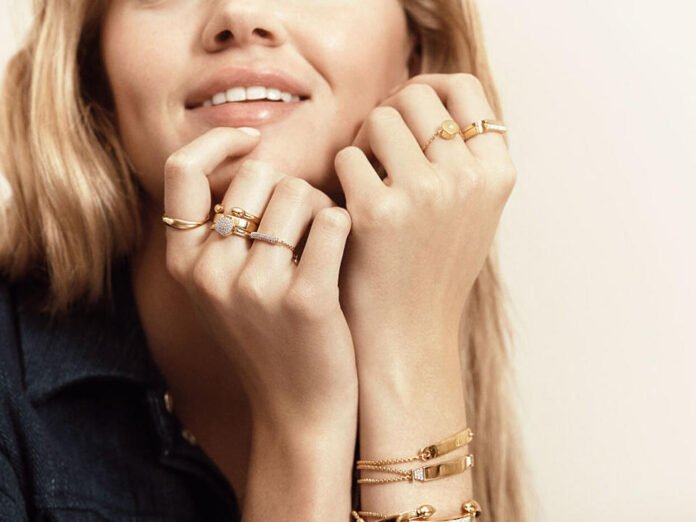 By stacking rings you can show off your unique personality while being stylish at the same time.
However, stacking rings isn't always that easy to pull off.
But don't worry, if you're looking to give this jewelry trend a try but don't know where to begin, we'll be your saviors.
At Padis Jewelry we'll provide you with all the tips and tricks you need to become a pro ring stacker.
You'll be able to flawlessly combine multiple golds, silver, and diamond rings to create a chic look that displays your own personality.
#1 Choose various shapes, widths, and sizes of rings
There are many different shapes, widths, and sizes of rings you can use to create your own unique look.
Let your creativity shine through and create a look that allows you to fully express yourself.
Some tips to take with you:
Don't stick to just one ring style, choose them in different patterns and mix and match them with other styles. The Gabriel & Co. Ladies' Fashion Ring in rose gold will perfectly fit a Ladies' Forevermark Tribute Diamond Ring
Try wearing smaller rings on different fingers, they don't have to fit perfectly near the knuckle. Let a smaller ring fit the top of your finger securely and create a fun layered look
Stack rings with larger bands like the Gabriel & Co. Diamond Fashion Ring with smaller rings like the Gabriel & Co. Ladies' Fashion Ring. Try wearing them on different fingers and create a stacked look on both hands
#2 Mix and match metals to create an eye-catching effect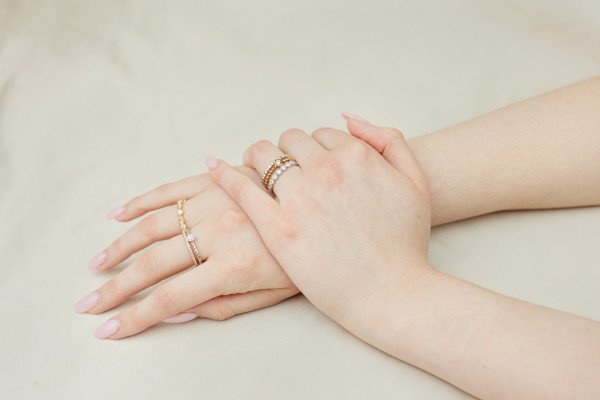 Mixing metals is the key to creating an eye-catching combination of stacked rings. The dramatic and bold effect will surely get people's attention.
You don't want to go too far mixing and matching metals though. Our recommendation is to stick with two contrasting metals. One of our favorite combinations is the Gabriel & Co.
Yellow Gold Fashion Ring with Rope Detail with the Henri Daussi Infinity Twist Ladies' Fashion Ring.
The stylish color of the Henry Daussi ring really pops with the yellow-gold color of the Gabriel & Co. Ring.
#3 Choose rings with diamonds and gems
Don't be afraid to pick less subtle rings without thin bands to stack. The diamonds and gems are for the extra glitter and shine.
Stacking rings with gems is a subtle art. Not all the gems should be stacked in a straight line but in different patterns.
The Sonoma Skies Ring with its crystal blue sky topaz gemstone pairs really well with the Ladies' Forevermark Tribute Diamond Ring with a white diamond.
When stacking them you could slide one gem more to the left, while the diamond is situated to the right.
#4 You're ready to start stacking
With our help, you're now fully ready to start stacking your rings!
Visit our website to schedule an appointment for one of our three showrooms and we'll help you find your own personal stacking style.