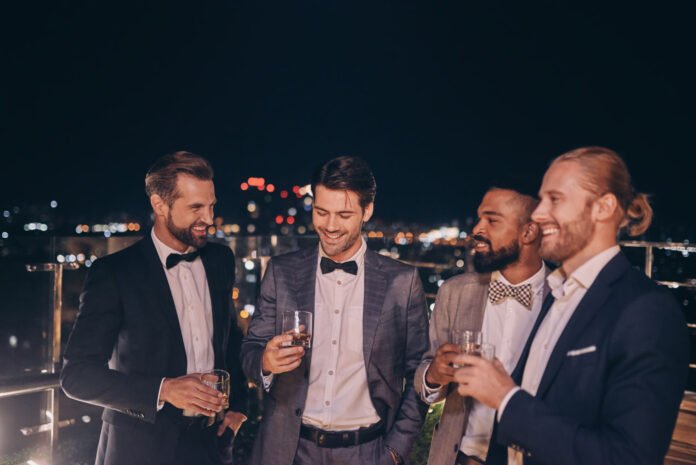 We all want to feel special on our wedding day.
It's one of the few days in our lives where all attention is averted to us, so looking sharp is vitally important but just how do you pull off that look?
With these tips, you can be sure to feel confident that all eyes will be on your suit.
The Suit
Rule number one: don't hold back! A high-quality, expensive suit is an absolute must for your wedding day; just as your honeymoon should be a luxurious vacation that you would not normally be able to afford, your suit should be something special.
It pays to get a suit that's fitted properly because throughout the majority of the ceremony your guests will be looking at your back; a loose, poorly fitted suit will just look shabby and lose you many style points.
Try a single-breasted suit in dark, pastel colors like black, navy, or grey; not only are they slimming colors but the single-breasted suit is a timeless look so you'll look back in 30 years and think: "Wow! I did look good!"
The Tie
The tie is your opportunity to express a little bit of your personality. If you're a bright, lively guy then there's no harm in a little color here; in fact, a colorful tie will add a modern twist to that traditional look.
However, most grooms opt for a 'safe' colored tie – black or white – which can look equally as striking if worn in the correct way.
The Shoes
It's vitally important to keep it simple with your choice of shoes.
A traditional pair of leather Oxford's is a timeless look that evokes style and sharpness; avoid more casual varieties such as brogues or Chelsea boots.
Like the suit, there's no need to hold back on shoes; cheap shoes will look cheap, and you'll feel their price rubbing your ankles when you've been wearing them for 12 hours.
They must, must, must be black, with thin leather soles – if your ceremony involves kneeling at the altar your guests will see more of the sole than you might have anticipated; so a simple, attractive soul is a must.
The Cufflinks
Cufflinks are synonymous with weddings; they're not only a popular wedding gift but also one of the few opportunities that most men get to wear them.
When choosing cufflinks for your wedding think about incorporating them with any color or style scheme that runs through the rest of the wedding; this will add a nice touch that your guests will notice and appreciate.
Keep things simple, and avoid garish patterns – unless, of course, there is a reason!