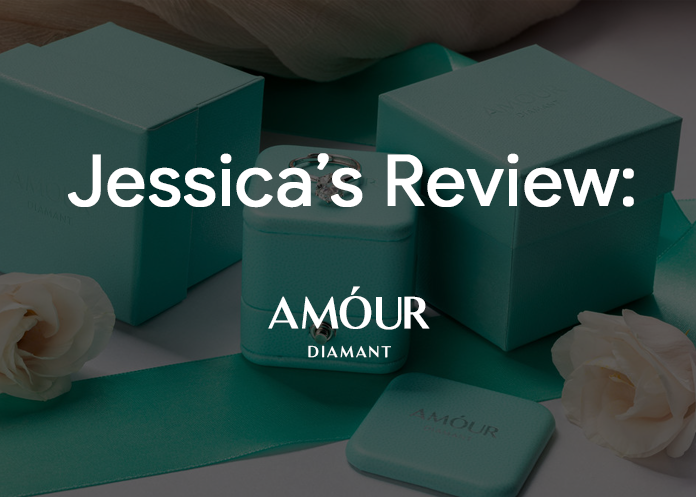 The idea of this review came with the engagement of my cousin, Lynda.
She got proposed with a platinum-plated 1-carat lab-grown diamond ring, and I was shocked when I found out the ring costs something bellow 500 euros.
I decided to talk and review with her now-husband, Mark, the engagement ring, and the AmourDiamant online store.
Mark bought the ring from AmourDiamant, a brand specialized in manufacturing and selling jewelry with lab-grown diamonds.
Mark told me he found this brand recommended by somebody on Instagram, and he decided to give it a try (mostly because he does not afford a 2000 euro ring, but we'll skip this part, lol).
First Look Review:
PROs
The website looks trustworthy, easy to use, and very intuitive.
Information about shipping, payments, returns, guarantees, and contact info are at a click distance.
PayPal accepted besides credit cards, which is a big green light.
Express shipping is free
SSL Secured Connection
CONs
They don't have a toll-free phone number to call, but they have a live chat on the website, so it's somehow the same. Maybe better.
The rings are available in 1 and 2 carats only, at the moment I write the review.
Website Rating 9/10
Support and communication:
Mark contacted support before his order and asked them to deliver it without mentions on the package about the ring.
He was afraid this potentially could ruin the surprise. AmourDiamant's support was very receptive and arranged the delivery in a generic box with no mention of the ring on it.
Kudos for that.
Mark said the communication and the service were five stars.
Support Rating 10/10
The Ring.
He selected the AmourDiamant ring in 1 carat. It is 499 euros and comes in a platinum-plated silver setting with 1 carat lab-grown diamond.
The ring looks expensive. It is beautiful and looks way better IRL compared to the photos.
Lynda is happy that Mark bought a size-adjustable ring because she often has trouble taking off the rings. You can resize the ring, so it's easy to take it off anytime.
The stone looks impressive; it shines bright, the light reflects in many sparkles from different colors.
I observed something similar in a costly jewelry brand store from downtown, so believe me, the stone is incredible.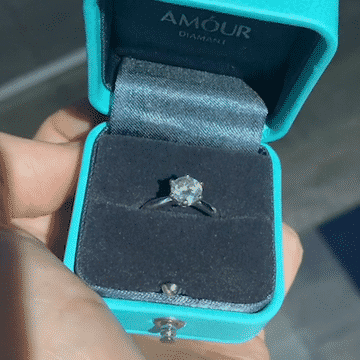 PROs:
Big gorgeous stone
The design of the ring is modern and minimalist
You can adjust the ring to any size without any tools.
The quality overall is excellent.
 CONs:
The stone can have a slightly yellowish tone when you look at a very bright light but is barely noticeable.
The ring band is platinum-plated silver, which is good because it is more durable than sterling silver, but if you love gold like me – you'll prefer 18K white gold. Anyways, AmourDiamant offer their ring in 18K white gold as a custom order, so contact them if you want your jewelry piece in pure gold.
Ring Rating 9/10
Shipping
Mark received the ring in 7 days, which is good enough considering it comes from Asia (did you know India and China are the largest processors of mined and lab-grown diamonds?).
Order is traceable and was delivered door-to-door by FedEx.
Also, the shipping is insured, this is very important when you buy something expensive, and the parcel could potentially be lost on the way.
Shipping Rating 8.5/10
Price
I have done some searching on google for rings with lab-grown diamonds, but AmourDiamant is the most affordable choice.
Prices for mined 1-carat diamonds begin at $1800, lab-grown diamonds start from $700.
AmourDiamant offers rings starting at 499.
Price Rating 9.5/10
OVERALL RATING
9.2/10 – Strongly Recommended