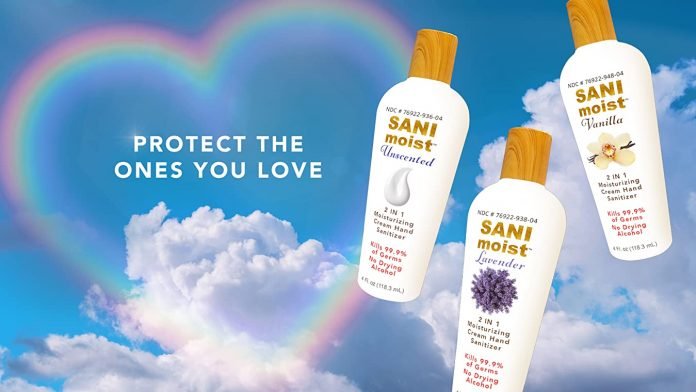 Alcohol Free, Antiseptic BZK Protection for Men, Women & Children – Cruelty Free
Amazon #1 New Release in Lotions and Hand Creams.
————————————————————————————————–
If you are seeking a solution to your dry, cracked hands caused by alcohol-based hand sanitizers, we found an amazing product.
New to the market, SaniMoist® Moisturizing Cream Based Antibacterial Hand Sanitizer. Already a massive success across the USA, SaniMoist® 2 IN 1 Moisturizing Cream Based
Antibacterial Hand Sanitizer kills 99.9% of germs, while the soothing lotion hydrates and softens your skin.
SaniMoist® is free from parabens and formulated to meet the preferences of highly discerning consumers.
Premium ingredients such as pure plant-based coconut glycerin, aloe vera, vitamin E, mint leaf, lavender, and rosemary make them suitable for even sensitive skin and a great alternative to alcohol-based hand sanitizers or traditional hand creams.
Michael Trigg, the CEO and founder of Trigg Laboratories stated, "Unlike traditional liquid and gel alcohol hand sanitizers which are harsh and have a drying, cracking effect, SaniMoist® 2 IN 1 Antibacterial Hand Sanitizer Creams moisturize and nourish skin while killing 99.9% of germs."
What makes SaniMoist® Moisturizing Cream Based Antibacterial Hand Sanitizer different, it does not use the traditional alcohol base to kill germs. SaniMoist® uses gentler Benzalkonium Chloride, which offers outstanding hygiene without the common side effects.
Your skin is left softer, soothed, and most crucial sanitized.
"It's an amazing sanitizer/ moisturizer. My hands were awful, scaly, dry, and cracked. I tried SaniMoist and after the first time, I used the cream my hands felt softer. Within a week, they were soft and smooth and I also know I'm killing germ. I will always keep SaniMoist in my purse and a bottle by my sink at home."
CS, VT
Take SaniMoist® when you travel and kill 99.9% of germs you encounter as well as the benefit of softer hands.
You can purchase at Amazon.