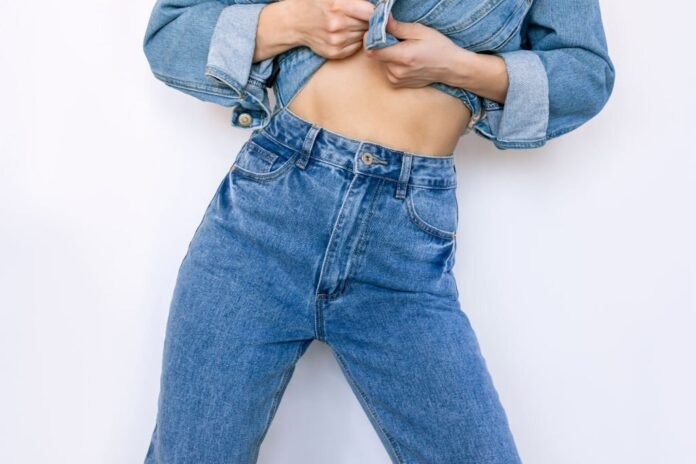 Women with an apple, hourglass, or banana shape tend to have wider hips, so look for low to mid-rise jeans.
Wider styles like this on-trend deep emerald pair also work well for pear shapes.
Women with strawberry-shaped bodies have heavier busts and tiny waists, so skinny jeans will accentuate their legs. Straight-leg jeans are also a good option.
Tuck in a classic button-down shirt and add a designer belt for a smart look.
Petite
A good pair of jeans can make or break your outfit, but finding the right one that flatters your figure can be difficult. From skinny jeans to ripped and distressed denim, there are so many options out there that it can be overwhelming.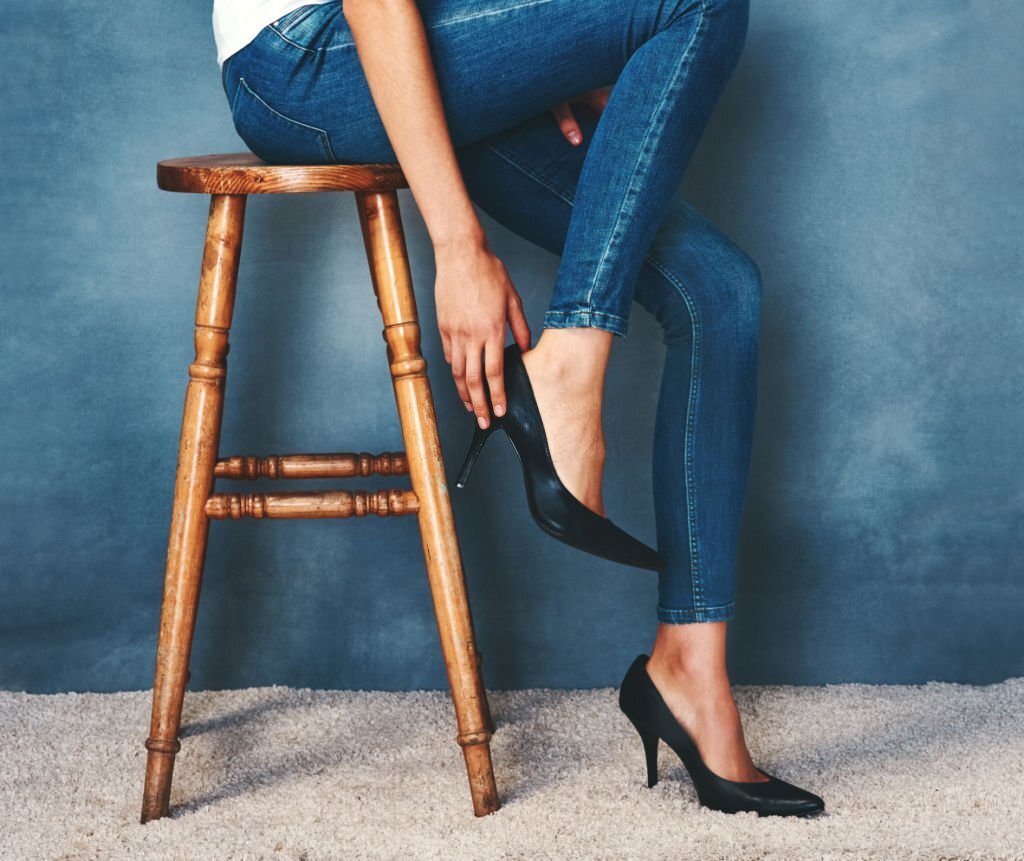 The good news is that, depending on your body type, everyone has a choice. Petite women often struggle to find jeans that fit correctly, especially at the waist.
Skinny jeans are the solution for this because they are designed with a tighter waist and are usually stretchable, which helps to create a slim silhouette.
Pair skinny jeans with a fitted top like a blouse or tee to showcase your lean legs.
High-rise boyfriend jeans for women are another great style for petite women as they are more relaxed around the crotch area, which can help balance out a smaller hip width.
Try wearing your boyfriend's jeans with a silky camisole and a long necklace pointing downwards for a date night to create an extended torso illusion.
Tall
Women with long inseams often struggle to find jeans that are both comfortable and look good.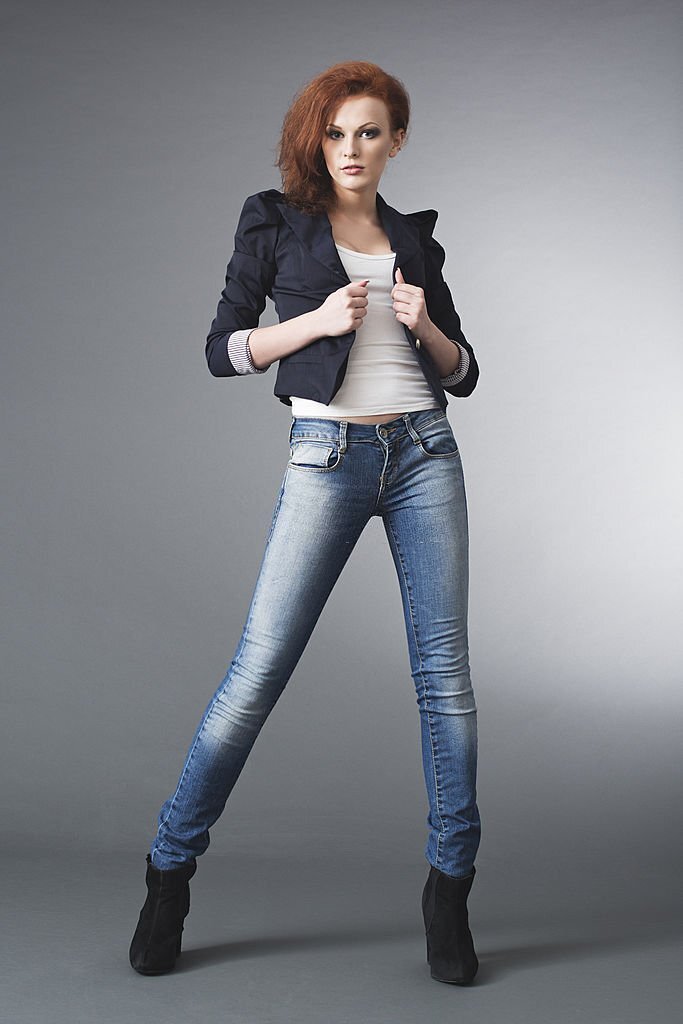 The main concern is finding jeans long enough to cover your ankles but not too long, where they start to look short and frumpy. It is also important to avoid baggy styles that add extra length and make you look sloppy.
Instead, try skinny jeans that fit snugly around your waist and are cinched at the hips (to create the illusion of a slimmer figure) or straight-leg jeans that are not too tight but have a relaxed, laid-back feel to them.
A classic hourglass body shape can pull off almost any style, but women with an apple-shaped figure face unique styling challenges.
Women with this body type have a larger bust and stomach than hips or legs and carry the bulk of their weight here, which can lead to a rounded, feminine appearance.
To balance this, it is a good idea to divert attention away from the heavier area by adding more proportion to your upper body with pretty feminine details like lace or bows and cinching at the thinnest part of the waist with wrap tops that fold over at the waistline.
Medium
You have a nice curve around your hips and thighs, but the rest of your body is fairly slim and toned. You carry most of your weight in the middle, so snug jeans on your waist and hips but looser on the legs will look great on you.
You can wear just about any style of jeans, and you don't have to worry about creating the dreaded "muffin top" (where your jeans dig into your crotch or butt).
You can also try jeans with a high waistline, which will help accentuate your tiny waist and create a flattering, streamlined silhouette.
You can dress these jeans with a blazer and heels for a night out or keep things casual with a tee and sneakers. You can also wear jeans with a wide leg to balance your muscular thighs and butt.
Make sure they are made of stretch denim to keep the fit snug without pinching your thighs or making you uncomfortable.
Pair these with form-fitting or strappy tops that highlight your shapely breasts and draw the eye upward, rather than tops with details like ruffles or puffed sleeves that will pull attention downward.
You can even try skinny jeans if you prefer.
Just be careful with the waistline – make sure it sits snugly on your natural waist, and avoid jeans that are too low, which will give you that dreaded muffin top.
Large
If you have a banana body shape, your shoulders are broad and hips slim, yet you have long legs.
You will look great in jeans that add volume to your lower section but are not too figure-hugging, as they can look boxy on your frame.
Try wide-leg jeans fitted to your knees and subtly flare below your calf. You will also look good in skinny jeans, adding definition to your waist and highlighting your curves.
Women with apple shapes often struggle to find a pair of jeans that don't leave a gap at the back of their butt. You can find the perfect pair for your apple-shaped body by finding jeans that fit tight and skinny up to the knee and then have a slight flare.
This will make your booty look bigger and more lifted.
Choose jeans that are dark in color and have medium size back pockets to enhance your natural shape.
Generally speaking, women with rectangular body shapes will suit most jeans as they are lean and long.
You can always opt for a trouser style wide-leg jeans as they will help keep your thighs and butt slim without looking too baggy.