If you love RGB keyboards and mice, it's time to take your experience to the next level.
With Eureka Ergonomic's Gaming Desk – GTG-L60 – you can turn your entire workstation into a multi-colored experience. Buy it here now.
Eureka Ergonomics is well-known for its high-quality and slightly crazy furniture designs. But its most recent RGB desk takes that to another level.
Powered off, it looks like any other L-shaped computer desk – a sleek and practical product designed to meet the needs of most home offices.
But when you turn it on, the experience becomes something completely different.
Eureka Ergonomics has really outdone themselves this time.
Full-Spectrum RGB Lighting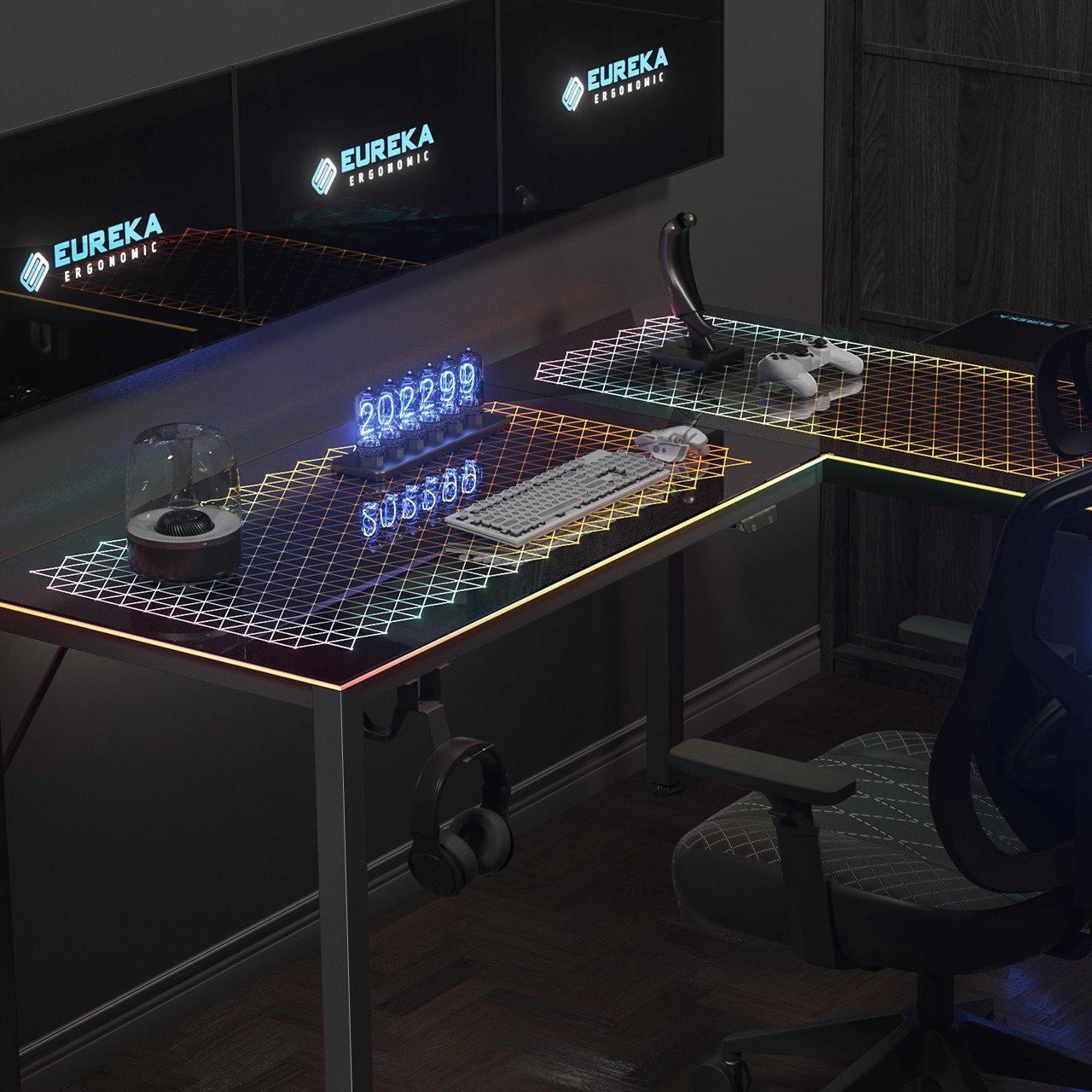 The L-shaped gaming desk's full-spectrum RGB lighting is its standout feature.
Eureka Ergonomics arranges LEDs in a diamond lattice that covers nearly 90 percent of the desk's surface area. Lights can then take on more than 200 patterns, including slide, ripple, wave, and breath effects.
What's more, like RGB keyboards and mice, the Eureka Ergonomics GTG-L60 L-shaped computer desk comes with audio-reactive technology, meaning that it can generate light patterns to suit the incoming sounds that it detects.
Hence, if you're listening to something calm, the light show will be calm.
OR if you're listening to something fast-paced, the RGB system will react, immersing you deeper into the game.
Seasoned gamers will recognize the benefits of reactive audio technology for the titles they play.
In fact, transitioning into combat on the GTG-L60 is like nothing else. Upon engaging the enemy, the whole desk changes color, bringing a new level of intensity to battles.
Of course, Eureka Ergonomics gives you full control over things like brightness so you can control the experience. The desk won't dazzle you or distract you from what's going on on the screen if you don't want it to.
What's more, you can hook it up to your PC directly, allowing the motherboard's firmware to direct the RGB sequencing, synchronizing it with lights on your case, graphics card, and RAM if you have it.
You can also connect it to your phone and control it via apps.
Other Features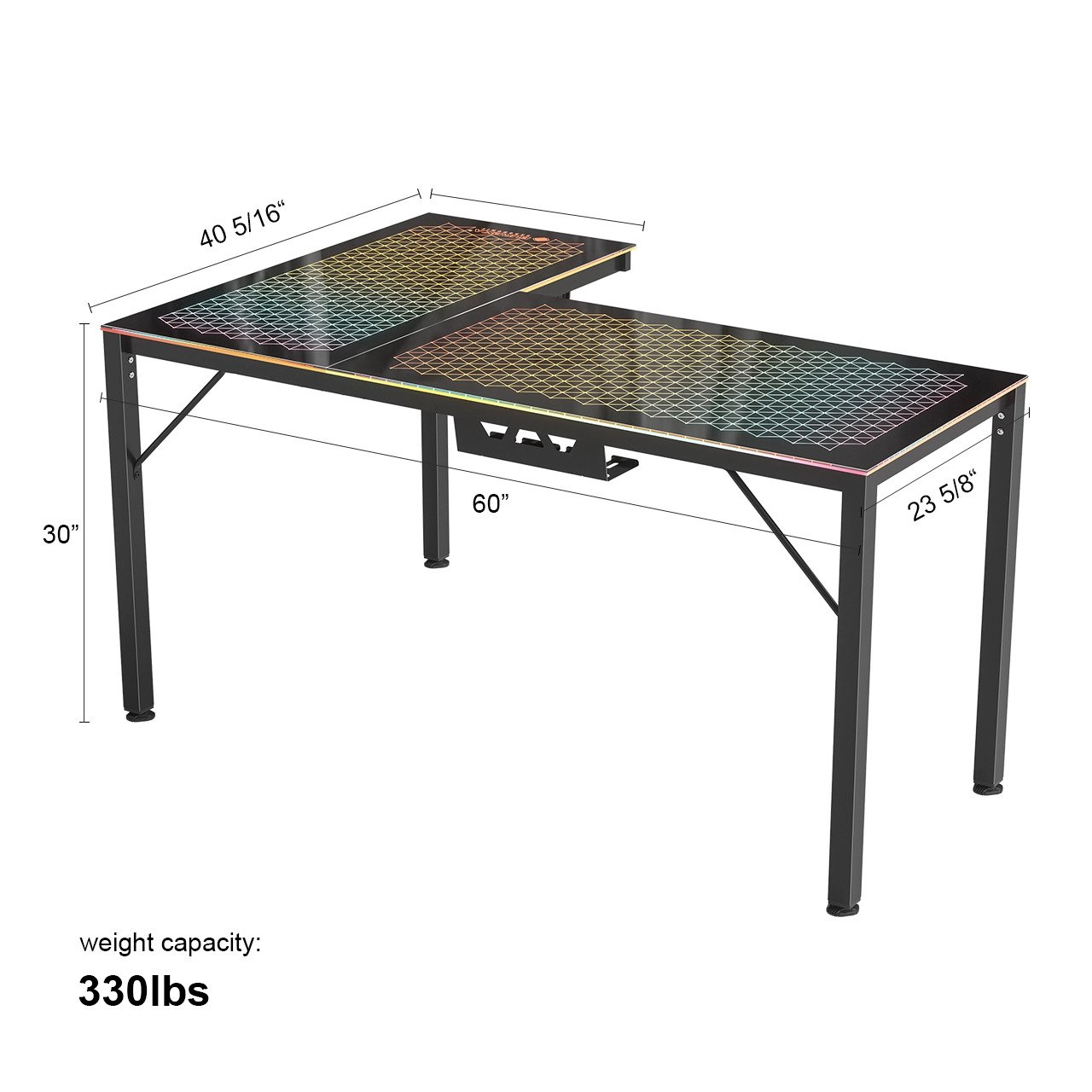 Eureka Ergonomic's L-shaped desk does more than put on a pretty show, though. Like the rest of the products in the brand's range, there is serious build quality behind it.
Furthermore, Eureka has also put tremendous thought into the design, making it as practical and flexible as it possibly can be.
Reversible Design
For instance, take the L-shaped standing desk's reversibility. You can simply rearrange the two pieces for a left- or right-handed L shape, depending on your needs.
The goal is to take the guesswork out of your setup and make it easy to arrange PCs side by side.
In fact, Eureka demonstrates how you can fit two desks together neatly along the same wall using opposite configurations. The result is a seamless RGB gaming setup that looks great anywhere.
Tempered Glass
Tempered glass is another welcome and necessary feature. Eureka Ergonomics had to come up with a way to allow the RGB lighting to shine through without creating a weak table that might crack easily.
Tempered glass has different properties from regular glass. Manufacturers make it in a special way that involves taking advantage of compression and tension in different layers of the glass.
During quenching, manufacturers cool the glass's outer surface more quickly than the middle.
As the middle cools, it pulls back on the outer surface, causing the center to remain in tension and the exterior to go into compression.
This combination is what gives Eureka's L-shape desk its remarkable features.
Scratch resistance comes from the unique properties of the glass. As long as you're using standard computer peripherals, the desk should remain to look its best for a long time. 
The desk is also shatter-resistant. Furthermore, if it does break, it won't shatter like regular glass. Rather, it will splinter into thousands of tiny, blunt pieces, a bit like a car windscreen.
Tempering also gives the unit a high weight capacity. This means that it can still support large monitors and speaker systems that gamers use.
According to Eureka Ergonomics, you can load the desk up with a massive 330 pounds – approximately the weight of two average people!
Enhanced Productivity
Of course, you don't have to use the GTG-L60 exclusively for gaming. If you need to be productive, it's the perfect desk for that as well.
The GTG-L60, for instance, comes with a handy cup holder for your morning coffee, a nice touch for people working from home.
There's also a dual headphone hook to prevent headphones from cluttering the desk and looking out of place. 
For those who use a lot of appliances while working or gaming, such as fax machines, printers, scanners, diffusers, and so on, Eureka Ergonomics equips the table with a helpful power strip holder.
This feature lets you add multiple sockets easily, and keep them all out of the way, making your setup look neat and tidy.
Perfect For Multi-Monitor Setups
You can set up two monitors side by side on a conventional rectangular desk. However, you often find yourself craning your neck to see what's on the outer edges of both screens.
Furthermore, you need a wide desk which may be too big for your gaming room or home office.
Eureka Ergonomic's L-desk cleverly eliminates this issue. The L-shape makes it easy to set up two monitors and then use a swivel chair and swing between them.
You can also make use of other easy combinations, such as a monitor and printer, or a monitor and scanner. It's ultimate in productivity.
Summing Up
Thanks to Eureka Ergonomics, L-shaped desks will never be the same again.
The brand's patented RGB hardware with Bluetooth control takes gaming experiences to the next level, setting the entire room aglow.
The RGB elements aren't a gimmick, either.
The desk is made to exceptionally high standards, comprising tempered glass and a carbon steel frame capable of supporting weights up to 330 pounds. https://eurekaergonomic.com/gaming-desk/