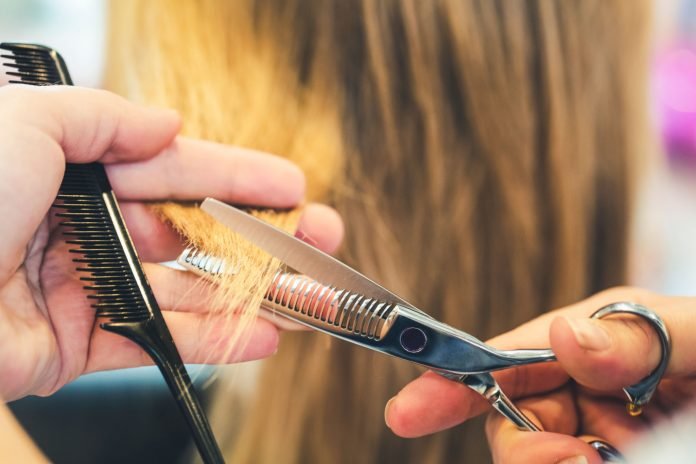 Why Japanese Scissors are the Craze of the Top Hair Designers?
Japanese scissors are among the hottest hair-cutting shears. They are highly sought after by professional hairdressers and stylists and are the most popular type of shears in the industry.
The trademark of Japanese shears is that they have very sharp, tapering edges called convex or honed edges.
These convex scissors are thin and sharp, making them extremely quick and smooth, perfect for slide and wisping cuts.
Though scissors from Japan are often compared to those from Germany, which have beveled edges that give a crisp or firm cut, Japanese shears can be used for many techniques and are extremely quick, sharp, smooth, and are often favored.
Benefits of Japanese Cutting Shears
Japanese shears are very versatile. You can use them for different techniques because they are light, fast, and sharp, yet very precise.
They are adaptable to many different styles, working wonders for wet, dry, or slide cutting as well as with taper and point cutting.
They are easy to control and comfortable in the hands, thus cutting with them is almost effortless and fun.
Each cut is as smooth as cutting through butter. These excellent shears make it possible to do detail work in difficult areas, such as behind the ear, quickly with exceptional results.
This will surely help you gain a happy clientele.
Because these shears come in many different brands, shapes, and sizes, they are extremely popular.
Popular Japanese Scissor Brands
Kamisori
Joewell
Ichiro
Yasaka
Juntetsu
How to Choose the Right Japanese Scissors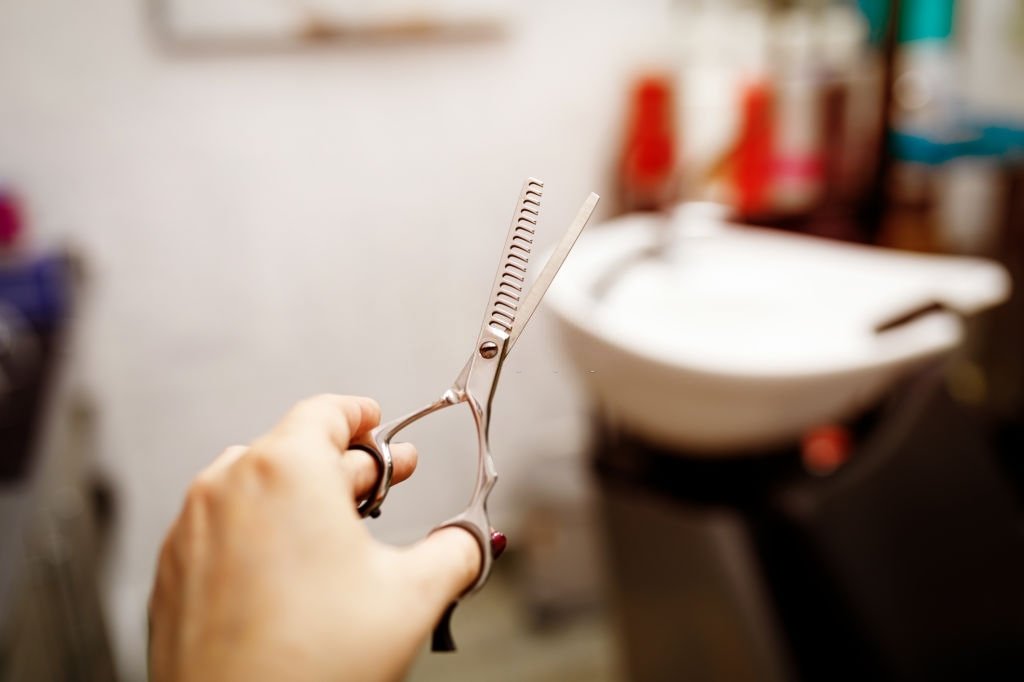 A hair stylist's success is dependent upon skill, consistency, and the quality of their service, which is ultimately dependent upon their tools.
how to use thinning shears? Because hair shears are a stylist's most important tool, it takes a long time to find their perfect pair of scissors or their preferred brands.
You'll find many companies pushing their shears at you without knowing what you're looking for.
Although there are many quality Japanese scissor brands, there are specific factors to focus on when looking to purchase the best hair cuttings shears for your particular needs.
Ergonomics
What matters even more than the brand is the ergonomic design of the scissors.
Ergonomic scissors have handles that are conformed to the natural hand position and the movement of the thumb.
Choosing scissors that do not conform to your hand can be detrimental to you and your career.
Shears that do not fit properly can cause wrist pain and injury since hairstylists spend so much time cutting hair; that is why I always push for ergonomics.
The most common type of ergonomic shears is the offset thumb ring scissors.
These scissors have a thumb ring that is a bit shorter than the finger ring and is slightly angled differently as well.
Bent thumb rings are scissors that have even more of an angle on the thumb ring.
Swivel Thumb Shears
Finally, swivel thumb shears have a free-moving thumb ring that can accommodate to the movement of the thumb.
The shank of ergonomic shears is sometimes curved for comfort, and you'll find short shanks as another ergonomic element that can help make a pair of scissors more comfortable for people with smaller hands or to make it easier to control scissors with long blades.
When testing out a new pair of scissors, "listen" to what your hands say. They'll tell you if they prefer shears with swivel thumbs or offset, bent thumbs, with curved handles.
Scissors that fit well and comfortably in your hand will give you maximum control for precise cuts.
When considering buying hair-cutting scissors, determine whether a cost is a factor and start narrowing your options from there.
To become the best hairstylist you can be will require you to have a good set of great shears.
How to use hair thinning scissors?
Although good hair shears can be expensive, what I would focus on even more than price is how the scissors fit in your hand.
I also think it's wiser to buy good quality shears rather than buying cheap scissors that dull quickly; you'll most likely spend much more on sharpening them than what you would have spent on a good pair of scissors in the first place.
If you're a newbie, I'd recommend getting a pair that you know is good and that you can afford.
You don't want to be a stylist who continues using bad scissors your whole career because you've never had a good pair.
Everyone has their preferences, but make sure you do thorough research in order to find the best value shears.
Also, it's so important that you find a good guide to help you find shears that not only cut flawlessly but will last.
Understanding The Importance Of Hair Thinning Scissors To Increase Your Shine
If you are concerned about your look then surely you must take good care of your hair.
When it comes to deciding the looks and beauty of a person hair plays a very important part it.
The right hairstyle can complement your looks and augment the positive aspects of your face and hide the negative ones.
One of the easiest ways to make sure that you achieve your desired look is to visit a hairstylist and get the latest haircut.
One of the most commonly used tools to give you the best look is hair shears. These hair trimming shears are the latest fashion boosters these days.
They are not only helping to get the desired look but some are also keeping a pair of these hair thinning scissors at home.
Hair trimming scissors have different uses, they are not just meant to cut hair and give you a good look.
A lot of people invest in these shears and keep a pair at home as it also helps to keep the volume of hair in check.
Hair trimming shears helps to keep control over the growth of hair, maintain curls, and blend in layered hair and even out styles that have been grown out. Having a pair of these always helps.
So whether you are a professional hairstylist or a home user you can always have hair trimming shears with you but before you buy them there are certain considerations that you should make.
High-Quality Japanese: Thinning Shears for Hair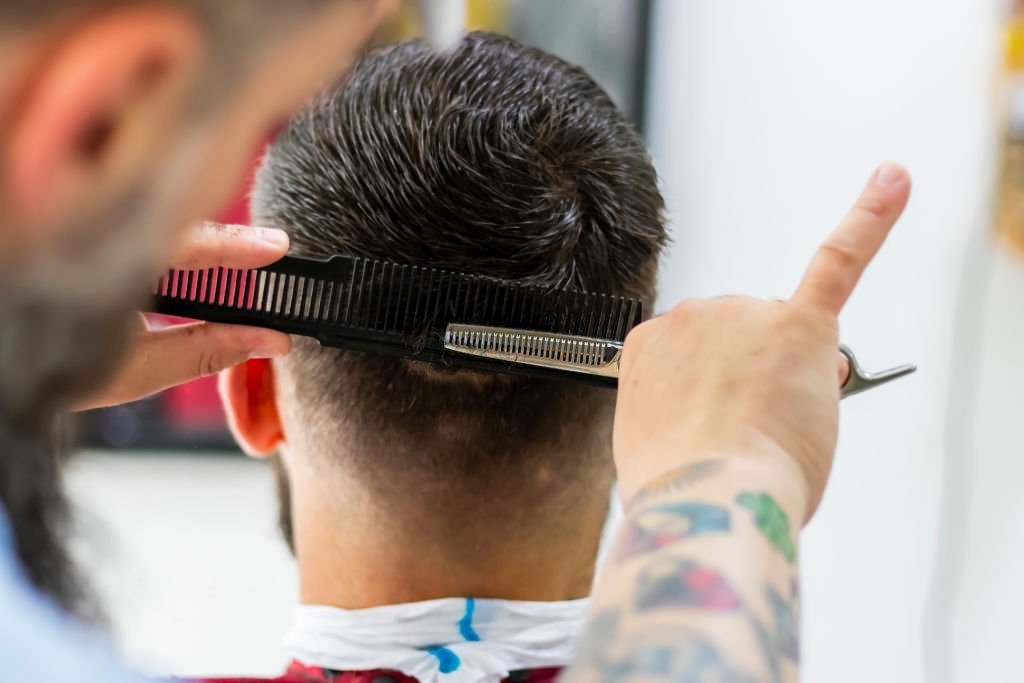 The first thing that you should consider is the material the scissors are made from.
It is recommended that you always opt for high-quality Japanese steel scissors which are forged in a two-piece construction set.
Forged Japanese steel hair thinning scissors guarantee the quality, balance, precision, and durability.
One of the well-known brands in this area is Saki Katana scissors; these scissors are good examples of quality and style.
The extra-long crane handle provides additional support and comfort, whereas the high-quality Japanese blades promise jitter-free smooth hair cutting.
Hair thinning scissors can be used to achieve a variety of looks, they are generally used to blend layers and remove bulk.
At first glance, it may look simple but if you do not have prior knowledge it is best that you do not try it out yourself.
One of the biggest mistakes that people make when using them is overuse which ultimately results in stringy hairstyles or uneven-looking hair because of the presence of short hair which seems to push upwards.
If you want to achieve a chunky look then you should buy scissors that are serrated. Serrated scissors will help you to cut your hair with ease and give you the desired look without much fuss.
People who have thick and unmanageable hair will understand that thinning scissors are their best friend as they not only help to manage unruly hair but also give the desired look.
Using thinning hair scissors is also easy but you have to be careful initially. Once you get the hang of it you can use it the way you want to.
Where to Buy Hair Thinning Japanese Scissors!
Do you have a pair of hair thinning scissors in mind but are not sure where you can find them? Don't worry, I can help.
Choosing a good pair of Japanese scissors can be a challenge because of all the choices.
If you want the perfect pair to create the most perfect styles then you need to search carefully to avoid ending up with a low-quality model that will ruin your chances.
When you use the best scissors you can cause a great impression on your clients and make them feel good about themselves thanks to the results you provide.
This will almost certainly make them want to come back or at least recommend you to others.
If you use a cheap pair of hair thinning scissors that are only worthy of dismal results, you can bet your client won't come back for another round!
The places you find scissors are different. If you want cheap scissors, you can find them at almost any drugstore or discount beauty store at bargain prices.
Of course, you don't want to use these, the blades are of poor quality and the satisfaction you get from cutting with them is extremely short-lived.
Those who have only just started styling hair will have no doubt received a beginner's kit that included general cutting scissors and thinning scissors.
These are usually low-grade scissors, and if you have graduated and are looking to work as a professional, you better find some high-end scissors to replace your old ones.
Professional Thinning Scissors:
Here is the recommend Japanese scissors online:
They work with scissor and shear manufacturers directly to bring your warehouse prices, One of the most important news is that their warehouse's locations are in Australia, USA, Canada, and of course Japan, also they can shipping weekly from Tokyo.
JapanScissors constantly search for the best Shear suppliers across Japan and Europe to provide new brands that are not yet available.
You can buy premium Scissors, such as Yasaka Japan, Joewell, Ichiro Japan etc. more affordable and readily available.
Cheap Hair Thinning Scissors
Now, finding a replacement doesn't mean buying a really expensive pair of hair-cutting scissors.
Of course, good-quality scissors cost a lot of money, but you get what you pay for and if you pay for durability and professional results, that's what you will get.
With thousands of scissors on the market, choosing just one pair won't be easy, which is why you need to first think about what you need personally.
So avoid discount stores and drugstores that stock up on $10 hair cutting scissors. Look around your local hair salons or online and see if they sell good-quality scissors.
At www.japanscissors.com.au, all products featured there will have been tried and tested, so it's a good place to start.
You can even ask the stylists there for a professional opinion. You can also browse the internet at brand websites that you know are high quality.
You can save money this way and have more opportunities to read customer reviews and compare prices.