Now more than ever, you need comfy loungewear that can also fit your work-out activities.
The reason is that more people are working from home more than ever, hence they need an outfit that they can move around with from living room to kitchen to their yoga mat at close play with comfort.
If you've ever wanted to walk around all day in the best loungewear and work out in the same outfit, now's your chance.
The new normal requires you to walk around in a comfy outfit that not only allows you to move but also works out when you need to.
So here are the best loungewear outfits to comfortably work out in whenever you feel like doing so:
1. Contrast trim crop top and shorts set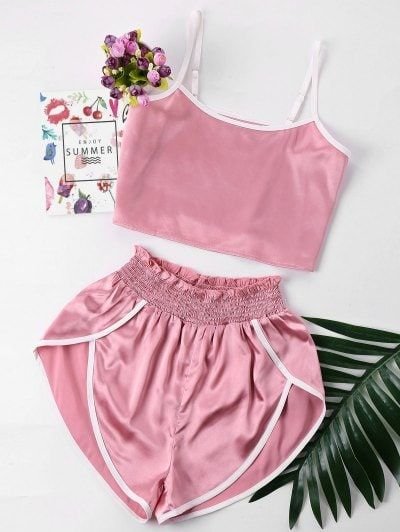 Perfect for an indoor workout, contract trim crop tops and shorts are so comfortable that they provide the perfect workout outfit for one who wants to wear it to feel a bit more relaxed.
Crafted from a soft fabrication with a seductive silhouette, this particularly sporty outfit is fit for summer workouts and will provide you with a perfect feel when you want to feel relaxed while working out.
The cropped bralette top adds the style definition you desire from your loungewear, as it features a sassy scoop neckline and adjustable spaghetti straps.
The short also breaks all the rules with its high cut-leg finished with a comfortable drawstring waist and tulip hem.
The good thing about this loungewear is that it's one of the most affordable pieces of outfit you can get, going for only $15+ shipping fee.
2. Long sleeve crew neck top and jogger set
The perfect outfit that one can wear from meetings, living room to the gym. What better outfit can meet all the demands of your daily life than the long-sleeved crew neck top and jogger set?
You just need to throw in this soft top and pants set after a long day for the ultimate level of comfort that is pure joy to wear.
The top is a regular-fit top that can fit perfectly with your quiet evening plans with its classic neckline and long sleeves.
The pants will also set the stage for a day of laying low at home dressed in these cropped joggers adorned with a comfortable pull-on waist that you can transition directly to your workout sessions.
3. Crop Top and Sweatpants Set
One of the sexiest loungewear that can also fit your workout plans perfectly. The ribbed-knit crop top and sweatpants set brings an easy-going style to your kicked-back routine.
The top is set up in a feminine square neckline that creates a captivating look.
It also features a pullover silhouette with fixed straps and a thin under-band for lightweight support.
Pants details center seam that flaunts a defined silhouette on the pull-on sweatpants featuring elastic cuffs for a sharp look.
4. Neon Pullover and Biker Shorts
Tired of leggings? Try the biker shorts and neon pullover for your loungewear and workout times at home.
These will free you from an array of bottom options for every possible movement. You can heat the room with this vibrant neon pullover top with a biker shorts set.
The top brings out a form of energetic style to your wardrobe with the cropped pullover top featuring a full-zip front, stand collar, and long sleeves.
The shorts will brighten up your look with this figure-flattering biker short flaunting a comfortable flat elastic waist for added comfort and style.
Final thoughts
You may want to get up and get dressed into an outfit that makes you feel productive in all areas, including to effectively work out in comfort, these loungewear sets are perfect for your relaxation and work out at home.
You can easily close down your laptop after your day's work and go straight into working out with them or move straight from bed to the gym.