The holidays are hastily approaching, and in addition to gift-buying and decorating, you might also be planning a few go-to outfits for seasonal events and gatherings.
The holiday season is a chance for you to wear fun and festive outfits while spending time with your friends, family, and other loved ones.
It can feel like a huge task, however, to create a great outfit during the holidays when you have so many other things on your mind.  
Consider the idea of a holiday capsule wardrobe.
Now, a capsule wardrobe in the traditional sense is more of an everyday-minded collection of clothing that can be mixed and matched to utilize multitasking pieces and help you save money and room in your closet.
It's an easy way to streamline your outfits and make getting dressed less involved while still being able to wear different outfits.
If you sometimes find yourself hitting a wall when it comes to outfits during the holiday season, a festive, holiday-themed capsule wardrobe could be just what you need.
Check out these guidelines, tips, and essential items for your holiday capsule wardrobe.
Curating Your Holiday Capsule Wardrobe
 When choosing pieces for your capsule wardrobe, it's important to keep a few things in mind.
Start by jotting down some events you know you'll need specific outfits for and when they are.
Having a general schedule can help determine how many of a certain items you might need to include in your capsule.
Next, take a look at your closet. You can avoid buying unnecessary multiples of certain items like short black boots or skinny jeans if you know you already have them on hand.  
 From there, it's all about choosing pieces with versatility. In general, it's good to include a pair of jeans that can be worn with heels or flats, a mini skirt, midi or maxi skirt, a couple of dresses that can be worn to nicer events, boots, nice sneakers, semi-casual tops, or sweaters, and your favorite winter accessories.
Your specific capsule might look a little different than anyone else's based on climate, personal style, and the dress code for your list of holiday events.
Nevertheless, here are a few specific items you should consider including in your holiday capsule wardrobe.   
1: Little Black Dress:
This probably comes as a shock to absolutely no one as a cute little black dress is a must-have in any closet year-round.
For the holidays, however, you might want to play up some of the traditional LBD features to spice things up.
Consider a little black dress in velvet or thick sweater material to make things feel festive and wintry.
You can also go for an LBD with long bell sleeves, sparkly embellishments, or a statement collar to elevate the look.  
2: Heeled Boots:
Your footwear can also make a fun holiday statement! Don't forget to include a pair of boots in your holiday capsule wardrobe this season.
While black leather or suede boots with a heel are classic and super versatile, you might also think about donning a pair of pointy-toed leather boots in rich caramel color with your holiday outfits.
You can wear these with jeans and a sweater for a cute and casual look or pair them with a mini skirt, tights, and a silky blouse for a sleek holiday party look.
3: Your Top Sweaters:
This season is all about sweaters in every style, color, and weight. Of course, your holiday capsule wardrobe should include a few! Keep in mind that you probably don't need to have 10 different cute sweater options and you can definitely wear your favorite two or three sweaters with different holiday-themed outfits.
A black turtleneck, chunky knit sweater, and one mid-weight sweater make up an inclusive collection that can be paired with both casual and nicer outfits.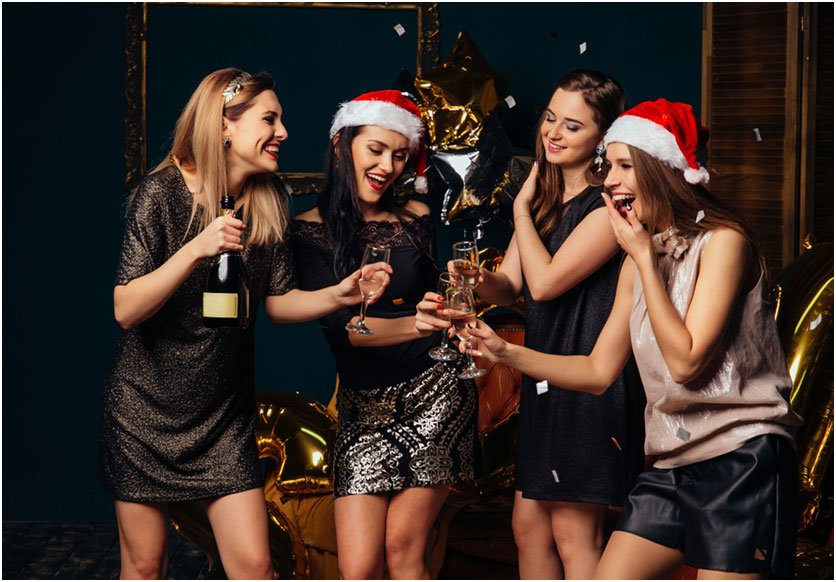 4: Festive Jackets:
Just because you're consolidating your holiday wardrobe into fewer pieces doesn't mean you can't have fun or make a bold statement.
In addition to a neutral-colored warm coat (if it gets cold enough where you are), rock your personal style with a couple of fun and trendy jackets.
You can elevate and change up your other layers by adding a jacket that features fringe or other fun additions. You also can't go wrong with a great leather jacket to tie your outfit together.
 5: Multitasking Skirts:
Skirts are the unsung hero of holiday outfits. They allow you to get more wear out of other pieces in your wardrobe and keep you looking great while doing it.
Keep things fun and festive with a plaid mini skirt with boots and a sweater.
Pair it with a beanie and a leather jacket for an edgier look or go for a whole different ensemble by combining a knit midi skirt with heels, a turtleneck, and a long winter coat.
Switch out the tops and shoes for a brand new look each time!