Sleep is a process where the body rests, repairs, and rejuvenates itself.  A good night's rest is an absolute must if you have to be up to the challenges of the next day. 
A disturbed sleep not only makes you grumpy and dull, but it also drains your energy.
Many factors impact your sleep. Did you know that?  Loud noises, uncomfortable beds, too hot or cold weather conditions have a bearing on the quality of your sleep.
For that matter, even the clothes you wear to bed determine whether you get the rest you require and deserve at night.
That may sound a bit far-fetched but think about it: do you feel cosy going to bed in tight-fitting clothes or in dresses made of fabrics that are uncomfortable to you?
The answer would be a definite NO. So you see, your sleepwear matters.
When you think about nightwear, the climatic conditions of the region you are in should be taken into consideration.
If it is hot and humid, cotton is the most ideal fabric to use. If it is cold, then woollen, silk, or synthetic fabrics can be used.
Now, let us go ahead and see what the best night-time wear from the wide range of nightdresses is that are available in the market now.
Pyjamas
Pyjamas are very popular as nightwear.  These are loose-fitting shirts and pants made in cotton, silk, or linen fabrics.
Pyjamas cover your body very well yet are loose and comfortable. While sleeping you may toss and turn and change positions, and it is very likely that your dress moves awkwardly too.
Especially if you are sleeping in a dormitory, or sharing rooms, pyjamas make you feel secure that they stay in place and stay covering the body well.
Coming in various pastel colors and prints, these are fashionable too. Pyjamas are usually made in good quality cotton, to give you extreme comfort during your night rest.
A T-shirt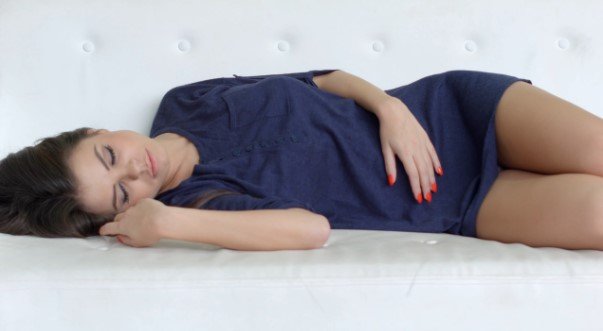 Long T-shirts are a favorite among young women to wear to bed.  T-shirts are made of fabrics that are breathable and usually large-sized T-shirts are used as nightwear.
However, this may not be a chosen dress for many women as it is still seen as a 'girlie thing' rather than a woman thing.
Nighties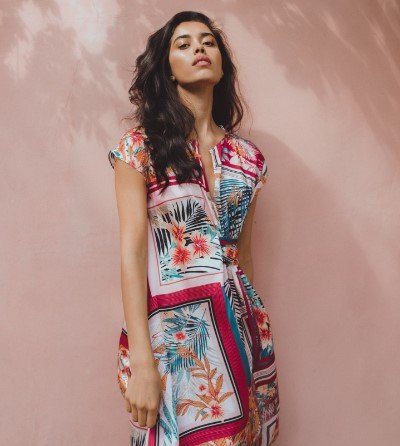 Nighties take the first place as the most popular night dress for women in India. Nighties are long maxi-type dresses that are loose-fitting.
The difference between a regular maxi and a nighty is that maxi dresses are well-fitting, especially the upper part of the dress will be fitted well to the body and taper towards the lower parts of the body while nighties are loose-fitting top to bottom.
All types of nighties are available, in all designs, styles, and fabrics.  A nighty will give you the security of full coverage while being loose and comfy and comes in all fabrics to suit all seasons.
A nighty or nightie as sometimes it is called comes in different styles; from short nighties that go up to only the knee level to the ones that go up to the feet.
They come in full sleeves, half sleeves, or even sleeveless.
You can choose the ones that are adorned with frills and laces, the ones that are plain and pastel-colored with or without embroidery work, etc.
All types of nighties are available for you to choose from, according to your needs and liking.
Good nightwear should be made of smooth fabric.  These should be non-allergic and as far as possible made of organic/natural fibers.
Cotton nighties and silk nighties are popular in these categories, and cotton nighties are most preferred by Indian women.
The adaptability of this dress is another reason why this is widely chosen.  It can be fashioned according to your liking, whether it is the fabric, prints, design, or style.
All types of nighties are available in the market for you to choose from and buy easily.
Make sure that you plan your clothing according to the season. You could find summer and winter style collections from most of the major brands.
A nighty is a versatile dress as it can be adapted as daywear also these days and this makes it even more popular.  It is easy to wear and change, giving it another plus point.
Conclusion
What is best to wear to bed depends upon your individual preferences and the climatic conditions.
Generally, wear something that insulates you from heat or cold, feels comfortable, and gives a nice feeling while wearing.
It should be calming and aid you to get into sleep.  You could choose something that is not tight or restrict your body and allows the skin to breathe freely.
Nighty with its versatility stands tall in this category.  Millions of Indian women who wear nighties, certainly vouch for that!