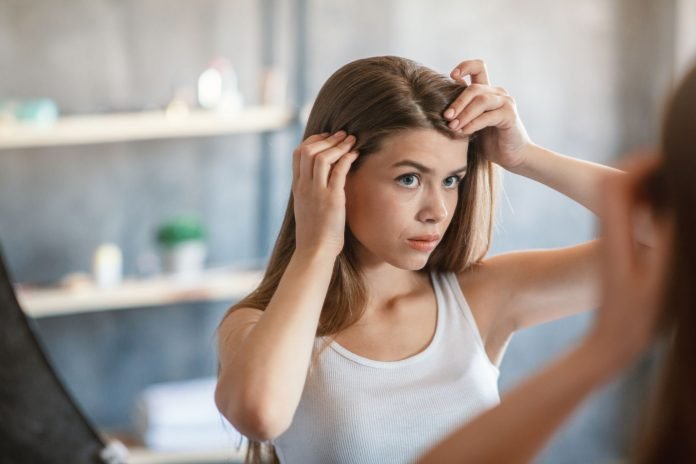 The condition is known for scaling, flaking, white waxy buildup, scalp sores, and of course scabs on the head.
The condition of the scalp can vary greatly but if seborrheic dermatitis is the diagnosis from your Doctor – Dermatologist then you will have symptoms that are visible and often times pretty bad on the scale.
Many people simply consider this seborrhea bad dandruff but the seborrhea part means that there is also excess sebum.
The scalp oils are the main focus as they provide a food supply for the fungus that is actually causing the symptoms including the scalp sores and scabs.
The oils can be tough to eliminate from the scalp as they become hardened and they can be down inside the hair follicle.
The best shampoo for scabs on scalp will use herbs and minerals to break down the scalp oils. These oils are feeding bacteria, yeast, and a specific fungus that causes both dandruff symptoms and also seborrheic eczema and dermatitis symptoms.
Most people expect a regular dandruff shampoo to work and you might get short-term relief from tar and medicine shampoos but they will not do anything too deep to cleanse the hair root which is vital for long-term results.
If your goal is long-term hair and scalp health then read below about how to cleanse the hair from root to tip and detox the scalp and pores.
Deep Cleanse and Detox The Hair Root and Follicle For Long Term Seborrheic Dermatitis Results
Figuring how to get rid of seborrheic dermatitis can be a tough one if you don't understand what causes the symptoms.
It is the sebum that is emitted on the scalp that carries sugars in various forms that feeds a very specific fungus that lives on the head and down inside the hair follicle.
Therefore the best way to get rid of seborrheic dermatitis symptoms is to limit your personal sugar intake through diet but also to deep cleanse away the scalp oils that are on the scalp but also down inside the hair follicle.
A mix of herbs and a mineral called zinc PCA have been proven to do this. The mix is called Zincplex.
This mixture has been a mainstay for those that suffer from dandruff, sores, scabs, seborrhea, eczema, and psoriasis.
They are available in scalp lotions, shampoos, and conditioner treatments that works on fungus and pest issues on the head and in the hair.