Many couples prefer to work with professionals to manage their wedding plans, there are several reasons why they may decide to take on all of the duties and planning themselves.
It may be possible that they have a limited budget for weddings, or they may just adore the possibilities of do-it-yourself projects.
In the current world, Various Online tools are utilized for everything from managing finances and editing images to scheduling vacations and comparing insurance.
That's why, there's no reason not to go digital for your wedding management as well.
If utilizing contemporary technology may save time and simplify the wedding planning process, we wholeheartedly support it.
Now we dive into the depth of this article to see some of the top online wedding planning tools for modern couples.
Why Should Use Online Wedding Planning Tools?
One excellent approach to relieve yourself and your partner of some of the stress on your big day is to use unique online wedding planner tools.
Those tools can take care of all those things that you might not think about on the day of your wedding, so everything goes smoothly and steadily and you don't end up anxious!
In the contemporary landscape of wedding planning, the utilization of online tools has become imperative for couples seeking seamless and stress-free ceremonies.
Online wedding planning tools offer a centralized platform for organizing every aspect of the event, from guest lists to vendor management.
These digital resources streamline communication, providing real-time collaboration between couples and vendors. Moreover, the accessibility of these tools ensures constant updates and easy sharing of crucial information, eliminating the risk of miscommunication.
With features like budget tracking and customizable checklists, these platforms empower couples to stay organized and in control, ultimately transforming the wedding planning process into a more efficient and enjoyable experience.
Some of the benefits of hiring a wedding planner are given as:
Efficient Organization: Online wedding planning tools serve as a centralized hub, enabling wedding houses to efficiently organize and manage various aspects of the event. From guest lists to vendor contacts and timelines, these tools facilitate seamless coordination, reducing the risk of oversights and ensuring a flawlessly executed celebration.
Real-time Collaboration: Collaboration is key in the wedding industry, and online tools foster real-time communication between wedding houses and clients. Instant updates, file sharing, and feedback loops ensure that everyone involved is on the same page, promoting a collaborative environment that enhances productivity and minimizes misunderstandings.
Time and Resource Management: Streamlining processes through online tools allows wedding houses to optimize time and resources. Features such as automated reminders, budget tracking, and task lists contribute to efficient time management, enabling professionals to focus on delivering exceptional service and exceeding client expectations.
Enhanced Client Experience: Online wedding planning tools contribute to an enhanced client experience by providing a transparent and accessible platform. Clients can actively participate in the planning process, review updates, and contribute their preferences, fostering a sense of involvement that adds to their overall satisfaction with the wedding house's services.
Data Security and Accessibility: Security is paramount when handling sensitive wedding information. Online tools offer secure data storage, protecting client details and event specifics. Furthermore, the accessibility of these tools ensures that wedding houses can retrieve critical information anytime, anywhere, facilitating a more flexible and responsive approach to client needs.
It's usually a good idea to hire a wedding coordinator for your big day. They may assist you in realizing your goal, help you avoid costly errors, and make sure everything is taken care of.
Best Online Wedding Planning Tools:
Some of Online wedding planning tools are given as:
1: Digital Wedding Planner
It's very simple to become disoriented and overwhelmed by the amount of planning that goes into organizing your wedding! Utilize a digital wedding planner to help you stay organized and productive in the days leading up to your wedding by keeping your wedding tasks on schedule.
To make it simple for you to see what requirements should be done next, first of all, make your own personalized to-do list, add deadlines for each task, and set up reminders.
You can invite your partner, the bridal party, and the wedding planner to work together and assign tasks by using https://planning.wedding/ a wedding management tool for your wedding!
2: Google Drive
For organizing wedding files, Google Drive is the best online resource! In essence, Google Drive is a system for storing files that you can access from any device at any time.
Additionally, because the platform is cloud-based, you may share folders with your partner and suppliers, create new papers, and upload data and photographs while on the road.
3: Wedding Website Builder
By creating a custom wedding website, you can provide your guests with all the information they require to organize and get ready for your big day, which will simplify communications and save you countless hours.
You can also introduce your bridal party, share your love story, and create a mood board for your upcoming wedding on your wedding website!
4: Pinterest
Alright, so you're probably already familiar with Pinterest in terms of finding inspiration and ideas for your wedding.
However, you can also use this smart platform to organize your wedding more quickly! Use shared boards to collaborate with your various wedding vendors, or just use the search option to find specific planning questions like "wedding décor checklist" or "DIY bouquet tutorial."
Additionally, you can use the search feature to look up various wedding suppliers and locations in your neighborhood.
5: Budget calculator
Budgeting for your wedding can be confusing and stressful, especially when dividing the money up and assigning it to each vendor.
A budget calculator is considered a highly useful tool that eliminates guesswork and provides you with estimates for every aspect of your wedding expenditures.
All you have to do is input your total budget, and the calculator will provide you with a rough breakdown so you can allocate your money effectively!
Final Recommendation
https://planning.wedding/ will assist you in organizing your wedding either on your own or in conjunction with a wedding planner or coordinator.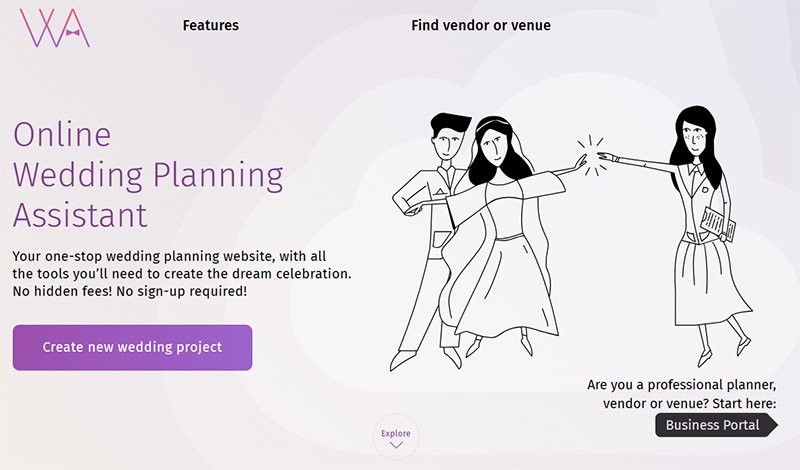 They offer wedding planning services:
RSVPs for the wedding
Wedding Website
Wedding Guest List
Wedding Inventory
Wedding Spending Plan
Wedding Schedule
Wedding Table Arrangements
Software for Weddings
Software for Brides
Locate Wedding Location
Locate Wedding Provider
Much more…
They also provide a free worldwide wedding planning service to everyone & available in the following languages:
Languages: English → Italian → French → German → Español → Portuguese →Čeština → Slovak → Magyar → Romanian → Русскиѹ → Türkçe →日本語
You can explore a ton of free resources available to assist newly engaged couples in streamlining the wedding planning process, more beneficial planning advice, cost-free templates, and practical checklists to make the process easier.