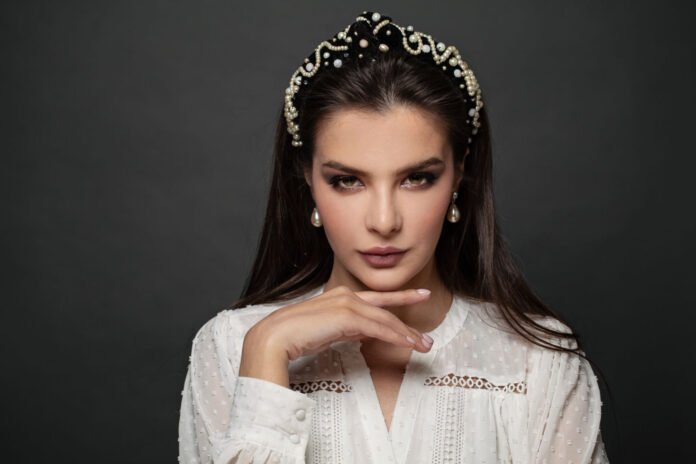 Throughout history, headbands have been very popular and today the market is full of different types, The style is constantly changing and headbands have grown extremely fashionable due to the efforts of designers, stylists, and movie stars.
Headbands can be worn with a variety of different hairstyles. The type of headband you choose to wear with your hairstyle can be super trendy or have you looking totally gorgeous.
This article gives you a brief overview on headbands with suitable hairstyles.
The headbands detailed below can be perfect for all types of hair and hair lengths.
Whether you have long hair, medium length hair, or short hair, you can choose your hairbands based on the proportion of your hair length.
These headbands and hairstyles can be chosen for both curly or straight hair. Sometimes women shy away from hairbands and headbands for fear that they might not suit them.
But there is no need to worry because headbands are now available for all kinds of face shapes and looks.
All you have to do is choose the headbands that look best for your face. So maintain your identity and select the headband of your choice.
Printed Organza Headband with Retro Hairstyle
Imagine you have a retro-themed party and everyone is ready for it except you because you have no idea how to band your hair to get a retro look and also need to hurry to the party.
If you're in a rush, then this hairstyle will be the best choice for you, which will give you a retro look in a very short time! First, comb your hair to give it a retro look.
Take out your headband and wrap it around your head to make it look like a retro look.
The string wrapped around this fabric headband helps you adjust the band to the angle of your choice. You can place the bow on one side of the head instead of the middle.
Don't put the bow in the middle of the top as it will make you look like a little kid, not the retro look you wanted.
It's very easy!  We told you this headband won't take more than a minute.
If you have a round face, you will definitely like the look you get from this hairstyle.  It looks great and beautiful with all types of hair – curly, wavy, and straight.
Young girls can choose this hair band while women in their 30s and 40s can choose more sober bands.
Studded Rhinestone Hair Crown With Colorful thin Headband
Are you in the mood to loosen your hair?  Let's see how to do it.  First, comb a large section of your hair to one side.
Like, we do it to separate one side, but keep in mind that separation should not be seen here.
When separating, take out a very thin section of hair and bake them. Next, split the stretched hair in two and apply a headband that will give you a rare look.  You now have a stylish and colorful hairstyle.
People with wavy and curly hair can also try this hairstyle with this hairband.  If your face is oval then this style gives beauty to your face.
And believe me, it is suitable for women of all ages, from small children to women in their 50s.
Floral Headband with Bun Hairstyle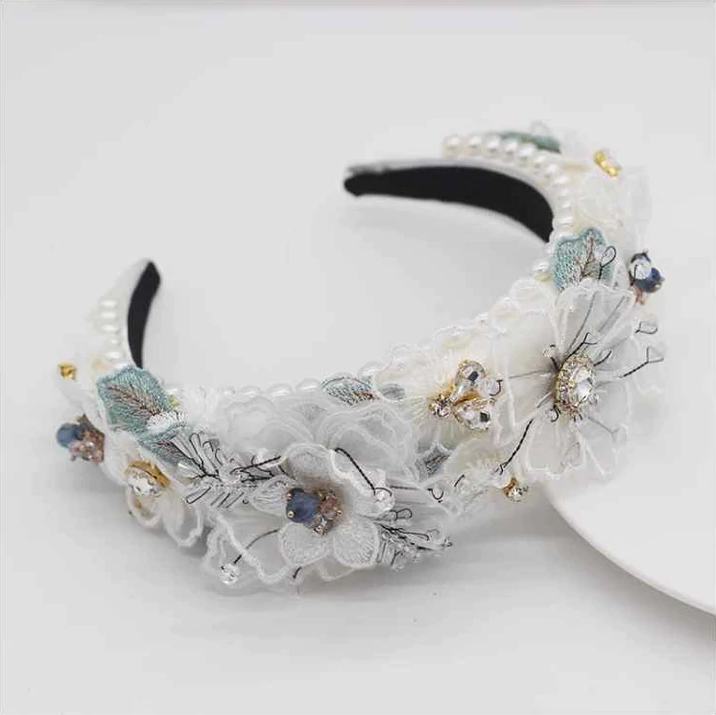 This is another type of retro hairstyle with a suitable headband.  From the front, this hairstyle looks like something from a past era.
It can be paired with clothing from the '50s, '60s, and '70s.  Here's how to put one together for use with your hair band and hairstyle.
First of all, comb your hair into a neat part and place this hair band in your hair. 
Hairstyles are now done with this hairband. This band works best with straight hair as it is difficult to get the same shape for curly or wavy hair types. Although it is compatible with all facial features.
Florence Headband With Wedding Hairstyle
If you are a bride, then this hairstyle is for you.  You will be a sight to behold tying flower crowns in your hair.
The way to do this is very simple. You will need a floral hair band to do this hairstyle.  This Florence hair band can be of any size and any color.
To do this, first, gently comb the hair and put a Florence headband around your head.  The hair on the back of the head should be below the headband and not above it as usual.
Now, gather the small sections from the back of the hair and tie them one by one completely around the headband.
Now you have a strange pair at the back and the beautiful flower at the front looks like a crown.
This hairstyle is very suitable and good for informal weddings.  This beautiful floral headband is suitable for all types of face, and hair types, and equally for young and old.
And you don't need a hairstylist to wear this headband. You can do it yourself or ask your friends for help.
Woven Knot Headband With Hairstyle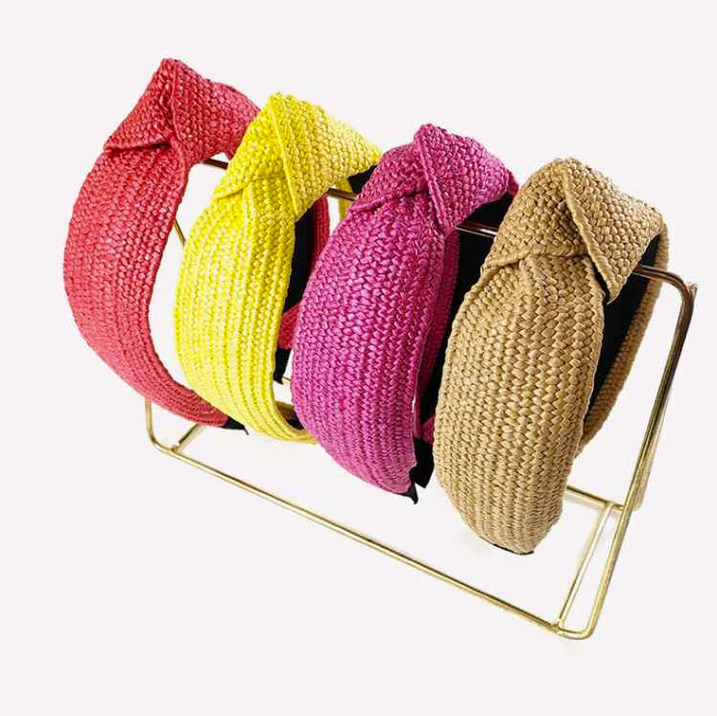 This hairstyle is very similar to the backstage ponytail hairstyles. The only difference is that we only make one plot here.
Suitable for everyone, including young women.
It is suitable for exercise.  Start by combing your hair and pulling it up, almost in the middle of your head.  Then use this band and tie a high ponytail.
Ponytail the ponytail hair until you are about 2 inches away from the ends of the hair.  This style is suitable and suitable for all hair types and hair lengths.
It is also a great choice for women in their 40s.  You can use this headband to look ready for the gym.
For a quiet day, rain or storm, this is the best hairstyle ever.
Majestic Pearl Diamante Headband
This headband will be a great choice to look like a princess. Wear a sleek bun with a double-row headband.
The perfect choice for a night out with the girls, for a formal occasion, or on a hot date, all you need is a Sasha Luss type hairstyle and natural makeup to take off this headband.
Baroque Bee Jewel Headband With Full Fringe Bun Hairstyle
If you have an edge, you know that headbands are made for you, right?
When wearing this headband, keep your bun and your jewelry to a minimum for a sophisticated look, for a festive or girls' night.
You can also side-sweep your long bangs, but for extra effect and if you want a romantic style, try moving the headband behind your fringe à la Dianna Agron.
Capella Gold Headband With Long Bob Hairstyle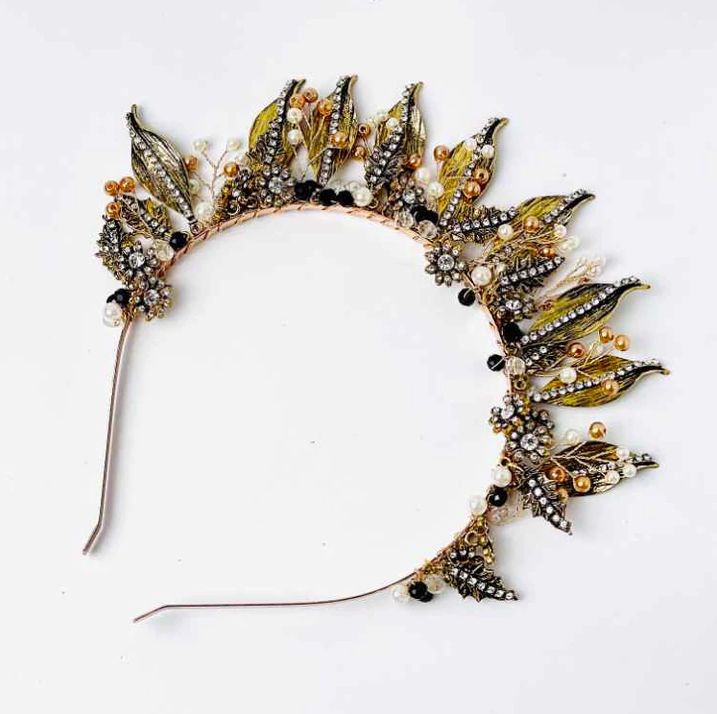 The long bob, floral dress, and gold headband shining like a sun on your head – be charming and beautiful in every way with this chic style.
Keep your shape simple, avoid cakes, make-up, shiny clothes, or hanging accessories.
Elite Jewel Crown With Brown Long Hair
This embellished headband with jewels is quite amazing and captivating and looks almost like a royal crown.
With its shiny and warm brown hair color, it looks like it is crowned and it also looks unique.  It can also be great for a unique bridal hairstyle.  The method of applying it is very simple.
First, comb the hair from the middle to the middle.  Then hang the long hair on both sides and put this headband in the badge.  Which gives you the look of a royal hairstyle.
Byzantine Gold Wreath Headband
A gold wreath headband makes a very powerful hairstyle.  This is a unique style for a confident person.
If you have no idea how to wear this headband, why not start with a compact hairpiece that does not contradict your hair color.
Adelle Floral Headband With Long Hairstyle
If your hair is long and straight, the right headband is a beautiful addition and will make you look glamorous.
So, if you are looking for a headband and hairstyle for your long hair, a long hairstyle with an Adelle Floral headband will be much better, and make sure that the color of the accessories matches the color of your clothes.
This will have you looking really beautiful and highlight your hair!
---
---
Final Thoughts
The headband is a hair accessory that will really enhance your look.
There are many types of headbands available at Axessorize fashion accessories online store, which are suitable for all hair types for women and girls.
They have a comprehensive selection of headbands to choose from, but also a very unique range of affordable fashion accessories, including earrings, bags, necklaces, and bracelets, that will enhance any outfit or look.
So what are you waiting for? Find your style now.