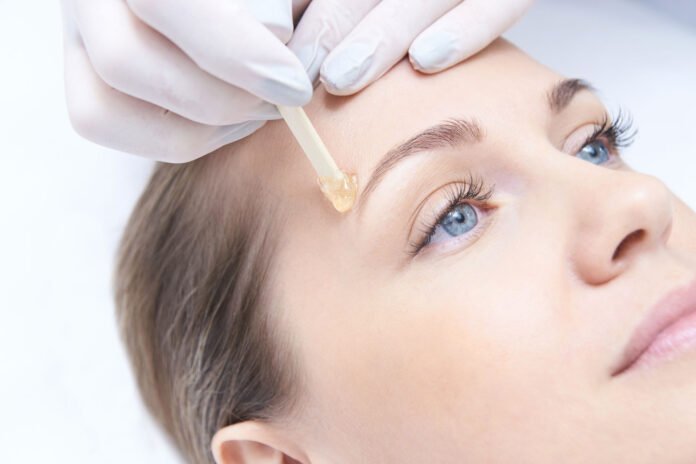 There are certain ingredients that have a major contribution to the beauty of your face and well-shaped eyebrows are definitely one of them.
The shape of eyebrows can change the entire look of your face so it is very important to take special care while shaping them.
There are a number of professional methods for shaping the eyebrows but eyebrow waxing is considered to be the most effective among all by the majority of users.
Plucking is the most commonly used method for shaping the eyebrows but it has a number of problems for sensitive skin.
Plucking is a really time-consuming and painful method that does not provide the perfect finish to your face.
The major benefit of opting for eyebrow waxing is that it can remove the hair at the root hence providing you with long-lasting results.
You can opt for hot or cold wax for shaping your eyebrows depending upon your skin type.
If you have sensitive skin then it is highly recommended to go for cold wax as the hot wax may create many troubles for the sensitive skin.
But for normal skin, hot wax is the perfect solution for eyebrow shaping.
It is very important to use natural products for eyebrow waxing as the eyes are the most sensitive part of your face and you have to remain really careful about that.
Any chemical found in the wax can cause many problems for your skin and eyes.
Most of the waxing products have natural ingredients that are friendly to your skin but at times some companies do add some chemicals in their products which should be avoided.
Many professional beauticians offer eyebrow waxing services for users. You can opt for the one that is available within your budget range.
These waxing services are designed to provide the perfect solutions for your eyebrow shaping.
It is mostly recommended to avail the professional services as far as your eyebrow shaping is concerned but if you are confident enough that you can precisely do it by yourself then go ahead.
All you need to do is get started with preparing your eyebrows for waxing.
How to Wax Eyebrows
This could be done by brushing the eyebrows with the help of an old mascara brush so that it will make your extra hair prominent that is needed to be removed. You can also apply an astringent in order to anesthetize the area to be waxed.
Now you can apply the wax under the eyebrows with the help of a small applicator.
You should make sure that you apply it as precisely as possible because otherwise, you can be in great trouble.
Now if you are using cold wax then you need a small cotton strip to be placed over the wax.
Press it for a few seconds and then pull it in the opposite direction of hair growth. Make sure that you hold the skin tightly during waxing for getting the desired results.
You can repeat this procedure for all the areas that require waxing around your eyebrows.
Improve Your Face Value by Opting For an EyeBrow Lamination
One of the most common problems faced by people with heavy eyebrows is that they always seem to be in a bad mood.
No matter how friendly a person with bushy eyebrows might be, to a stranger, he will always appear to be moody and hence unapproachable.
EyeBrow lamination is a technique that elevates your brows from the root, giving them a more dramatic appearance.
The nicest part about brow lamination is that you can sit back and relax for around 40 minutes while your brow artist works her magic.
To get the volumizing effect, Keratin is applied to each strand of hair and then raised at the root.
The hairs are then placed into place in the same direction for a neat shape. If desired, this treatment can be combined with other services such as brow waxing.
The procedure not only helps in improving your looks but also takes care of other problems like correcting drooping eyebrows, removing signs of aging around the area of eyes and forehead, and restoring the tightness of the skin in that area.
One can also go for a combination of brow lift and forehead lift. This is especially helpful for people who have deep furrows and wrinkles on their forehead that make them look much older than they actually are.
The process does not take more than 2-3 hours to complete and the patient is discharged afterward.
Eyebrow Waxing and Lamination Service
There are mainly three types of brow lift procedures and it is advisable to seek the guidance of an experienced cosmetic surgeon to choose the one that will provide maximum benefit to you.
Eyebrow lamination is fast becoming popular because of its being easy, less risky, and requires less recovery time.
Experienced and experts make sure that you get the procedure that is most beneficial for you.
Conclusion
Eyebrow waxing and lamination is an effective and much cheaper method of shaping your eyebrows that can provide fast and long-lasting results for you.
You can enjoy an enhanced look of your eyes for several months by opting for eyebrow waxing.