Did you know that the art of bespoke suiting originates from Savile Row in London, U.K.?
'Bespoke' means 'to be spoken for', and that makes total sense when you think of the phrase 'Power Suit'. A power suit exudes confidence. They are designed to turn heads as you enter a room.
Power suits are often seen in the likes of high-earning bankers or lawyers, but that doesn't mean the average Joe can't wear one.
Think of the saying: 'dress how you want to be addressed.' A bespoke suit is a best-fitting suit you can get. It is custom-made for you based on your measurements and style preferences.
At The Tailory, we offer multiple fittings with your expert consultant to ensure your bespoke suit fits you perfectly in every way.
We are a by-appointment-only tailoring company and cater to men, women, and non-binary individuals.
We create personally designed, fitted, and curated collections for everybody and everybody.
We believe that your wardrobe should not only fit perfectly but should be designed around you and your lifestyle. We pride ourselves on our meticulously made custom-fit suits that uphold our clients' identities and seamlessly slot in with their lifestyles.
The process of having a custom-fit or bespoke suit made at The Tailory
We create the following pieces:
Suits
Tuxedos
Blazers
Dress shirts
Pants
Chinos
Vests
Overcoats
Dresses
Skirts
During your first fitting appointment, one of our welcoming and specialist consultants will take over 35 measurements to ensure they can create the perfect fit.
Every one of our consultants has years of custom tailoring experience and all-inclusive pattern-making and clothing construction knowledge.
They also understand that a custom-made or bespoke suit perfectly combines a flawless fit while accommodating all personal style preferences.
They are great at building a rapport with every client so that you feel in safe hands and can speak comfortably about what you want.
They will guide you throughout the design process and help you personalise your custom suit to ensure it meets your lifestyle requirements and individual style.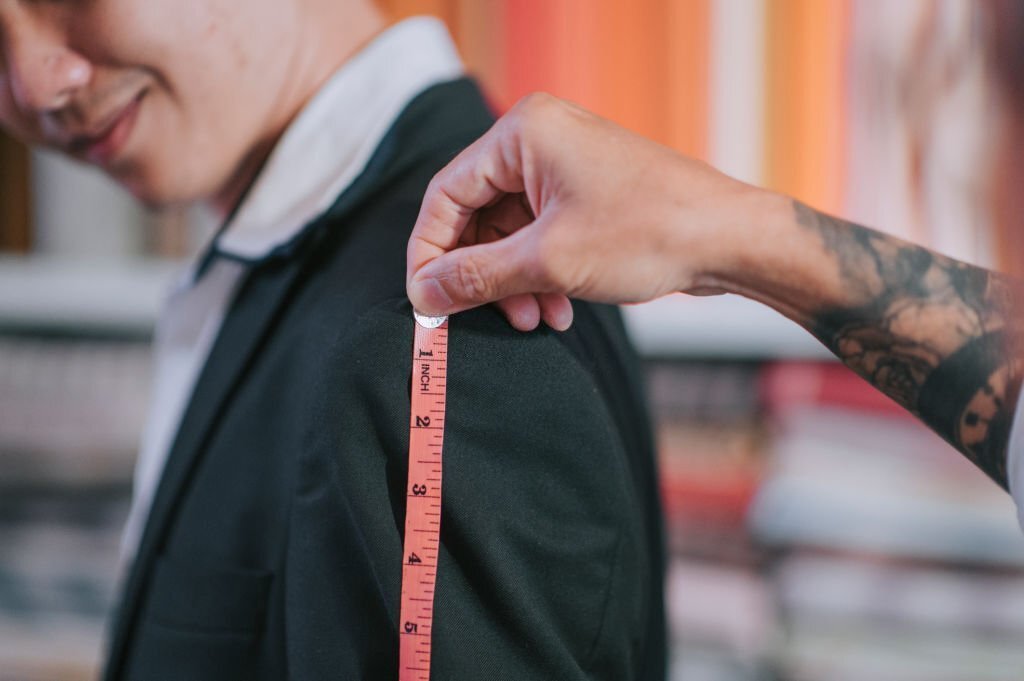 All consultations include your own Pinterest board to help you gather fashion ideas and inspiration.
The pattern of your bespoke suit will be digitally cut for you. We never use template patterns at The Tailory.
This means you can fully customise your suit's fit, style, and design. We have a wide range of house materials for you to choose from, from Super 120s to Super 150s wool.
We also carry Super 110s-Super 180s branded European wools from Vitale Barberis, Loro Piana, Scabal, Dormeuil, Mazzoni, Policarpo, and Escorial.
You can even upgrade to an entirely handmade suit (completely bespoke).
When your measurements have been taken and your suit has been designed, the technical specifications and style details are sent to our production team, who begin creating your suit within minutes.
We have 24/7 production capability, which means we can deliver your custom suit in as little as 6-8 weeks.
Our house material suits/tuxedos start from $1,450.
Once your suit arrives, you can try it on again to ensure the fit is exact; we can provide any further alterations if needed.