Have you seen a person who habitually pricks on his nose? Are you one of the many who are affected by blackheads and whiteheads?
Certainly, there are a lot of people who suffer from blackheads that are tempted to have this unhealthy habit, or should I say mannerism.
They did not know that removing blackheads with their fingers can actually damage their skin.
Pricking and squeezing blackheads can bruise the skin and can cause the skin to become infected leading to more serious skin problems.
Moreover, putting too much pressure deepens the blackheads thus leaving larger holes in their faces.
It is important to remove blackheads with proper tools in order to prevent infection and scars. There are several ways to remove blackheads.
First of all, let me tell you the manual action and Tips that How to Use Blackhead Removal Tools.
One way to remove blackheads is to wash your face with facial wash and or soap to remove dirt, grime, and oil to prevent your skin from infection.
You may want to exfoliate your skin after washing in order to remove dry skin.
After cleansing and exfoliating your skin, soften the area by putting a hot facial cloth or simply steam on your face.
This will allow your pores to open up. In addition, it will facilitate the easy removal of blackheads.
Different Blackhead Removal Tools
Tweezers.
Squeezing the blackheads or pimples breaks the skin and with the use of tweezers, they lessen the pressure.
Double Spoon Extractors.
This tool consists of two different shaped ends. These are used for the different sizes of blackheads.
Metal loop Extractors.
You should be very careful in using this tool. Remember that this tool can bruise your skin if you apply too much pressure. Gently put pressure around the blackhead and patiently wait for the blackheads to pop out.
Blackhead Removal Strips.
These are very popular because they are very cheap and effective to use for a long time and are kind of old methods.
You don't need to worry about bleeding and scaring unlike the Metal Loop Extractors and Double Spoon Extractors.
Just simply stick it to the affected area of your face that you want to clean and wait for a few minutes before removing it.
But…
Here is the amazing Blackhead Remover Vacuum that sucks the blackheads without putting any pressure on the skin.
Why a Blackhead Remover Vacuum is Such a Great Piece of Equipment
Blackhead Removal Vacuum. This amazing vacuum sucks the blackheads without putting any pressure on the skin.
This is very effective, safe and the best part is, there is no risk of skin scarring. Just make sure that you soften the skin prior to the procedure.
The NICEBLE Blackhead Remover Vacuum with Heat & Ice Care, 68kPa Deep Facial Cleansing Pimple Extractor including this features; Pimple Popper Tool Kit, 5 Adjustable Suction,5 Suction Probes, USB Rechargeable Acne Cleaner.
Here are the amazing features:
【60-68Kpa suction】To thoroughly clean the skin, the latest super vacuum suction technology is used. 5 suction stops (60-68Kpa) for diverse skin types, successfully cleans blackheads, whiteheads, acne, oil, dead skin, makeup residue, and other problems. It can exfoliate the skin, reduce fine wrinkles, and tighten the skin without hurting it.
【Heat & Ice Care】It may be used as an eye massager to reduce eye fatigue and enjoy skin SPA at any time, thanks to its cold and hot compress care functions. The heat compress function at 37°C-45°C relaxes the skin and softens blackheads. The 17°C -29°C ice care feature immediately cools your skin, minimises redness, heals the skin, and prevents enlarged pores.
【5 Suction Probes & 5 Suction levels】this vacuum provide 5 various suction powers (60-68Kpa) to meet a variety of skin washing requirements. Level 1 is good for dry and sensitive skin, Level 2 is appropriate for normal skin, Level 3 is suitable for oily skin, and Level 4-5 is ideal for combination and stubborn skin.
【Portable and long standby time】It weighs only 156g and has roughly the same volume as your palm. Take it with you if you want to travel light. After 2 hours of charging, you will have 150 minutes of standby time. Rechargeable through USB.
The NICEBLE Blackhead remover vacuum incorporates LED display panels, and is easy to use. Made of eco-friendly ABS, it is non-toxic and safe to use on the face, and enables effective cleansing.
Blackhead Remover Vacuum Benefits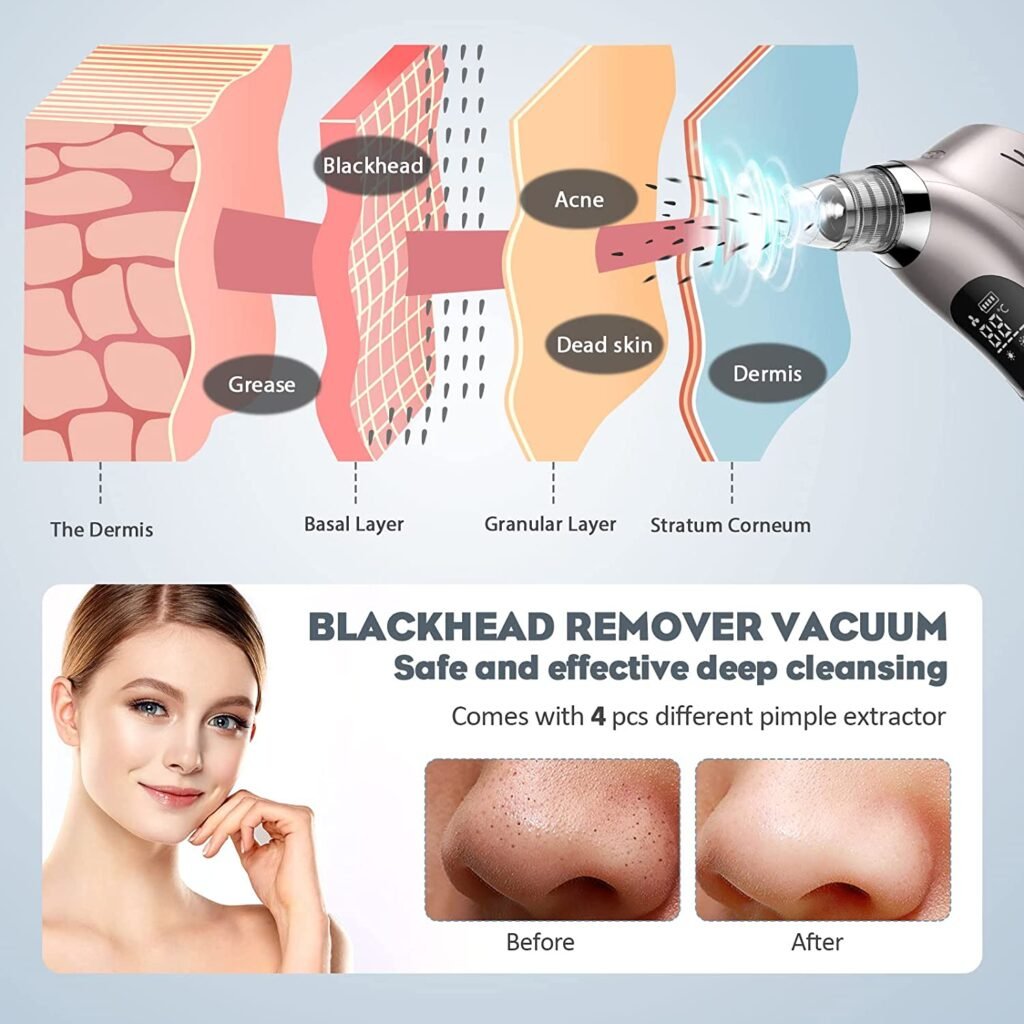 Many people are aware of blackheads; however, those who have them are unsure of the best solution to remove them.
In many situations, it appears that people with blackheads immediately squeeze them to try to get rid of it.
There is a major issue with this. Squeezing out a blackhead can severely damage the skin pores, resulting in lifelong scarring. Bacteria can also enter the pore from beneath the skin, causing an infection.
This is why it is so important to use a proper blackhead remover, like the one which uses a vacuum.
A vacuum blackhead remover can easily remove blackheads without causing any pain or inconvenience.
It is as simple as placing the vacuum head on top of the blackhead and allowing it to suck away the blackhead. It is really as simple as that.
It is also designed to extract the main root of the blackhead so that more of them do not appear in the future.
Because no markings are left on the treated area, many people believe it is an excellent blackhead remover.
Overall, if the blackhead remover is used correctly, it can be a very useful method to get rid of the spots without all of the trouble and hassle that other treatments involve.
It is also far safer than the "blackhead squeeze" that so many people perform badly.
Just make sure to Apply the blackhead extracting liquid before use for better effect, cleanse the face with cold water, and use the ice compress function to shrink pores.
P.S: If you are afraid to use these tools and you want to remove your blackheads, simply seek professional help.