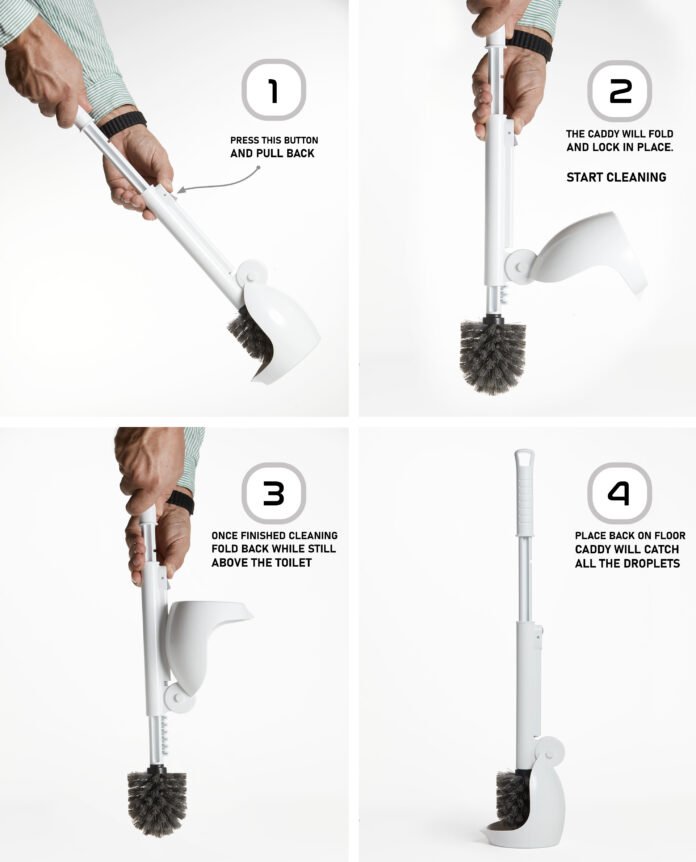 With a Unique Caddy Design for a NoDripExperience
This is a must-have for every home!
No one wants to clean a toilet with a traditional toilet brush and have the dirty toilet water drop all over the floor. Cleaning toilets are a necessity, but who likes to deal with the mess of dirty water on the bathroom floor?
Elypro, a leader in innovative solutions developed an amazing product.
The new Drip Free Toilet Brush is so easy to use with just a push of a button. The caddy folds out of your way when you want to use the brush and folds right back into a closed position after use.
How easy is that kitchen
The excess water drips in it, rather than leaving a mess on your floor. No more drips. Why add a second step of cleaning the floor?
Elypro Drip Free Toilet Brush provides a ventilated caddy which means no germs. Germ's love moist environments, Elypro designed the ventilated holder caddy to allow quick evaporation of water after every cleaning, keeping the germs at bay.
The drip caddy was designed with a spout that lets you drain any excess water with ease. The design is very sleek and can sit out in your bathroom or be placed in a closet when not in use.
With their unique two-in-one design, the holder caddy is conveniently attached to its base and can be easily moved out of the way when you need to clean the toilet bowl and just as quickly put back after you have finished.
It is also extremely durable with a great reach. The bristles are strong, they do not shed or scratch the toilet bowl.
The Drip Free Toilet Brush is also better for the environment, no tossing disposable cleaning heads in the trash, which adds more waste in our landfills.
"What an amazing product, cleaning my toilet has bever been easier," T.W. Hartford, CT.
If you want to make cleaning easier before and during the hectic holiday season, you should check out the Elypro Drip Free Toilet Brush on Amazon, https://amzn.to/3nDY9Tt
Also, check out their Coffee Mug Organizers and Storage.
Mug Stacker is their brilliant designed adjustable stacking device that will organize your kitchen cabinets by stacking mugs and cups in a narrow fashion, which will save space on your cupboard shelf.
Drinkware Stacker takes advantage of your cabinet's unused airspace between your mugs and the shelf by lifting your cups and mugs on top of each other without the risk of chipping or breaking them. It's like discovering a whole new cupboard.
The stacker is a one-size-fits-all for large and small mugs. This is a great stocking stuffer for friends and family.
It is very easy to use, just place one Drinkware Stacker on top of a coffee cup, then set another one upside-down, right-on top.
Give the Stacker a gentle squeeze to adjust to the size, and your coffee cups organized and safe from chipping.
You can also buy on Amazon.
No matter what you buy from Elypro you can expect high-quality products!
Learn more at:  https://www.elypro.com/