Silver jewelry is a type of jewelry that consists of 92.5 % pure silver and 7.5% other metals. Silver jewelry is marked with 925 sterling silver which has been certified as pure silver.
Sterling 925 Silver jewelry is considered pure silver jewelry because sterling silver is harder than common silver and is suitable for jewelry making.
That is why always prefer 925 sterling silver jewelry for your jewelry set or accessories.
Silver has proven itself as a powerful anti-microbial agent, fighting infection, aiding in colds, and healing wounds.
Silver jewelry sets and accessories are human-friendly, that's the reason silver jewelry should be preferred.
Here is the description of some of our products so that you can make the best choice when buying our products.
Blackheart stud earrings with agate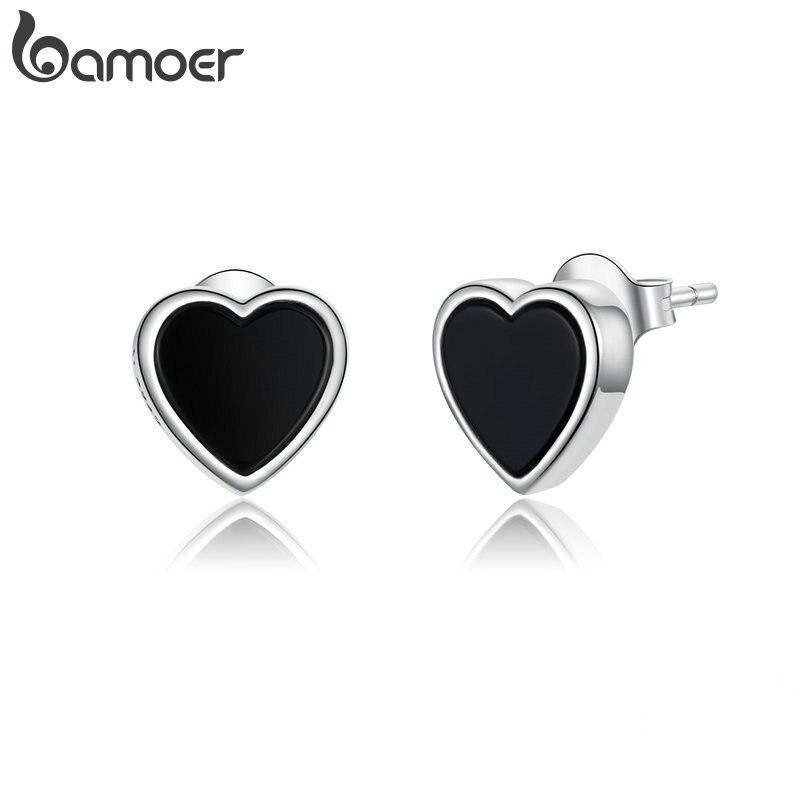 The black heart is considered a symbol of deep connection.  The best black heart stud earrings made of sterling silver are the perfect choice for a beautiful look.
Because inside it is a black artificial dark black agate. This product is also considered suitable for mourning jewelry
Enamel Butterfly Stud Earrings With Natural Pearl
There are really nice butterfly stud earrings with crystals and pearls for a magical and beautiful ear.
It looks like a sack that encloses with a drawstring.  And between them is a pearl that looks like a pearl of clear water.
Sparkling cockatoo earrings made of 925 silver.
These are amazingly beautiful and very attractive hoop earrings in cockatoo design.  They look like a beautiful cubic bird set that shines like a diamond.  It also has a folding mechanism.  It is also comfortable to wear thin earrings.
We're glad to inform you that we have a stock of 925 sterling silver jewelry. We have Air Rings, Necklaces, Brooches, Open Rings, Bracelets, Jewelry Sets, and Anklets in different designs and varieties.
We also have different designs of Aromatherapy, Angelsrufers, and Bolas.
Pull-through earrings, partially gold-plated butterflies
This is a slightly larger design than normal with partially gold plated and earrings through the magnificent bridge with butterflies.
This design is slightly curved. A solid middle piece that ensures better hold and comfortable fit. This is a gold jeweler design with gold plating to enhance the beauty.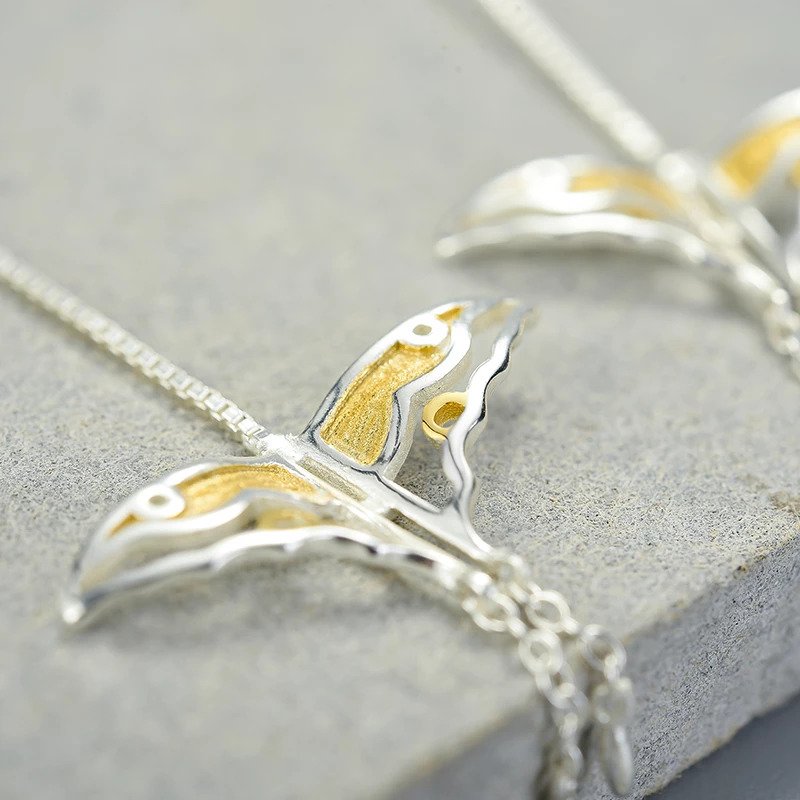 These are the things about ear products. Now we look at other products of Silver Jewelry and review them.
Here is a description!
Angel callers / Bolas
Jewelry with Sound Balls in Silver Jewelry – Angel Rover, called small sound balls when worn around the neck creates a soft sound with the belly.
These products are usually spherical in the form of "Harmony Bells" or "Harmony Balls".
Some come with a chain, which can also be changed, so you can choose different colors over time – even if it matches your outfit.
The tradition of carrying such small balls on the abdomen during pregnancy is said to have originated in Mexico, which is probably why they are also called "Mexican Bola", "Pregnancy Bola" or "Pregnancy Chain".
And in medical science, it is said that soft tones have a positive effect on the mother and baby because newborns can hear external sounds at an early stage.
To calm the nerves, mothers prefer to massage the baby and the abdomen with a sound ball to soothe themselves.
And this is probably the reason why it has become a tradition to put it around the neck.
And if used regularly, the ball can have a wonderful effect on the baby that is born later. It was advantages and features of Angel callers or Bolas.
Now here is a description of these products so that you could choose easily a good product.
20mm Chime Ball – Silver Plated Angel Pendant with Colored Bola, Necklace
The aspherical pendant is known as the "Angel Rover".  The ball in it comes from an angel who holds the ball inside it with his big wings.  And a necklace is already included.
The shell of the ball can be opened from the side and one of the balls of different colors is placed in it.
You can choose the sound ball and chain in the color of your choice when ordering.
On the other hand, you can make it more beautiful and perfect, by putting a few drops of perfumed oil on a ball of a certain color and it will give off fragrance for a few days.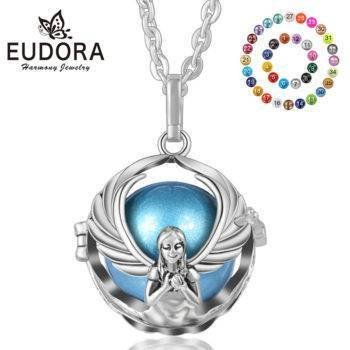 Gold-plated chime pendant or bola with turquoise enamel
Fine chime pendants made of gold-plated copper and navy-colored enamel give a very elegant look to the neck.
An extra-long necklace is provided when ordering online.  The soundtrack is a great choice for pregnancy jewelry.
This type of pendant is also called "Harmony Bell".  There is a bell inside.  If the ball in it is shaken, a soft and calm sound is heard, the effect of which is relaxed.
And as we call it "Engelsrufer", it has been observed that women in Mexico traditionally wear these chimes or bolas during pregnancy, on the baby bump as a pregnancy chain.
This is a great and wonderful gift for pregnant women.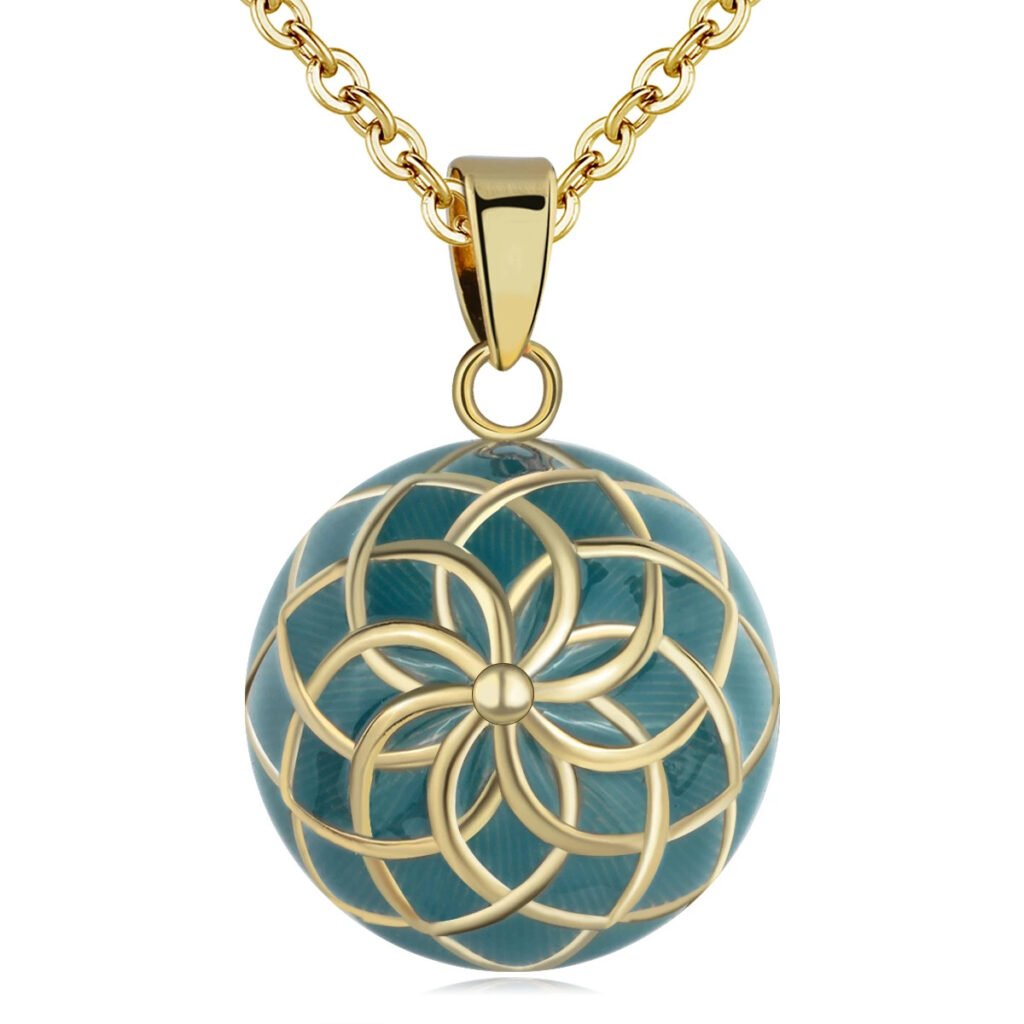 About spoo-design.de
Our Silver Jewelry Shop is always available for your service.
Visit the amazing spoo-design.de online service that allows you to book orders at any time.  It is our responsibility to deliver it to you at a reasonable price.
We make our products accessible to the customer at very reasonable prices. You just have to select jewelry according to your need, demand, and beauty.
We have products of silver jewelry that can be a great choice with clothing. Silver jewelry can be a great gift for your loved ones if you want to give jewelry as a gift to someone.
You can explore our beautiful combination of the best fashion watches with silver jewelry but the choice is up to you.