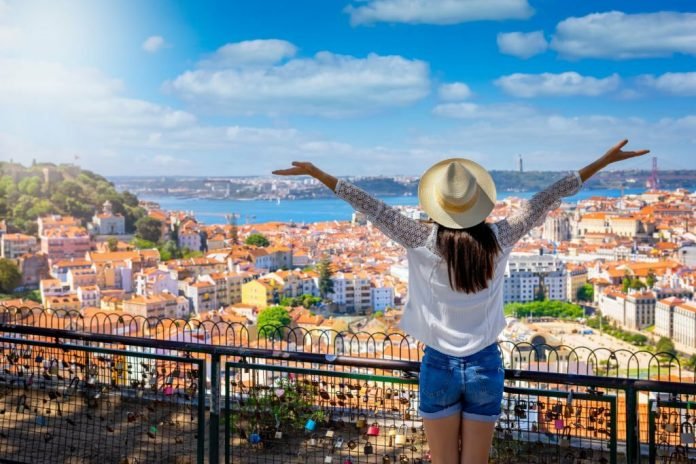 Lisbon is a well-liked, famous, and prominent shopping destination to find unusual things for every range of price.
Due to the availability and accessibility of a wide range of things to buy Lisbon is a fantastic destination for shopping of all stripes.
Numerous international brands have their headquarters there, and it is regarded as one of the less expensive major European cities. This Lisbon city also famous for his huge selection of regional designers and family-run prices selling unusual and extraordinary goods. 
If you're looking for best shopping in Lisbon, there are a few that you should take into account.
This city is famous and recognized as a home for a different types of shops, like boutiques, artisan stores and traditional shops.
There is certain to be something to suit your interests, whether you are searching for something tasteful and traditional or something inventive and amusing.
Lisbon is certain to have any kind of shopping experience you are looking for. Ones must Spend some time exploring the city to find all the interesting things it has to offer.
The Best Places to Go Shopping in Lisbon
Rua Garrett:
Lisbon's Rua Garrett is a popular retail area. The main thoroughfare of Lisbon's Chiado neighborhood is Rua Garrett, which is unquestionably among the city's top retail streets.
It connects the renowned A Brasileira café to the Aramazéns do Chiado mall and has a number of major clothes and jewelry retailers.
There are stores for Hugo Boss, Massimo Dutti, Zara, Swarovski, and Tous on this street.
The United Colors of Benetton store contains the first elevators in Europe. They are beautiful to look at because to the golden interiors and velvet-covered stools.
The oldest continuously operating bookstore, Livraria Bertrand, Is likewise located on Rua Garrett. It began operations in 1732 and is still operating now.
The Portuguese have a strong love of reading and a long literary heritage.
Many of the country's bookshops and library cafes, including some that are regarded as historic landmarks, demonstrate this. Livraria Bertrand, a bookstore with a prominent corner location on Rua Garrett, is one such instance.
Its exterior features, including lovely ironwork balconies and blue and white old tiles, make it simple to identify.
With distinctive architecture Livraria Bertrand is also renowned for being one of the world's oldest bookstores.
It has been running continuously since 1732; this year marks its 288th birthday. Bertrand received a certificate from the Guinness Book of Records in 2010 attesting to its status as the longest operating bookstore. The certificate is prominently displayed at the store for 
Vasco da Gama:
The Vasco da Gama retail Centre, a three-level building that is a part of the Parque das Naçes (Park of Nations), is regarded as Lisbon's top retail center.
It was initially constructed for the 1998 World Expo in Lisbon. It is located on the eastern side of the city, looking out over the Vasco da Gama bridge, which is the longest bridge in all of Europe, and the Rio Tejo (Tagus River).
From its balconies, consumers may enjoy a stunning view thanks to its glass ceiling.
Vasco da Gama, a Portuguese explorer and nobleman who gave the Europeans a new maritime route to Asia, is honored with a name for the mall.
There are close to 150 shops there that sell apparel, jewelry, shoes, home goods, books, cosmetics, and healthcare supplies. In addition, there are 50 restaurants, six movie theaters.
Whatever kind of shopping experience you're looking for, Lisbon offers it. Ones should Spend some time in this exploring city to find all the interesting things according to your desire that it has to offer.
Feira da Ladra:
Since it first began to be celebrated in various locations in the year 1270, Feira da Ladra has been an integral feature of the Portuguese capital for centuries.
Today, it is always held on Tuesdays and Saturdays at Campo de Santa Clara Park and offers some of the best shopping in Lisbon.
At this shopping store, Shoppers can find a wide range of choice of things. These include everything from ceramics and artwork to glassware and used goods including vinyl recordings, discarded clothing, and military equipment.
Prices are frequently flexible, and these items are spread out on blankets.
The most popular things, however, tend to sell out quickly, so customers should arrive early to receive the finest selection at the best pricing.
Rua Augusta
Rua Augusta is one of the best shopping in Lisbon. It is a famous location of cloth shopping that offers a variety of choices and is a well-liked clothing.
Neck scarves, jewelry, shoes, and hand-made bags are available at large European chain retailers like Zara, Mango, and H&M as well as local shops. Overall, it is a terrific place to shop overall if you're looking for anything that fits your style.
Lisbon's busiest pedestrian thoroughfare, which connects Rossio and Praça do Comércio, is bordered by the distinctive cobblestone patterns of Portugal.
A variety of traditional stores and foreign brands can be found on this shopping route, some of which have attractive old signs.
Some of Lisbon's best clothing shopping can be found on this street.
The nearby Design and Fashion Museum showcases creations by well-known designers including Christian Dior and Tommy Hilfiger.
The Rua dos Correeiros Archaeological Site, a subterranean location, is another place where Roman mosaics and other artifacts from the previous 2500 years were discovered during excavations in the 1990s. It is reachable via Rua dos Correeiros.
Freeport Lisboa Fashion Outlet:
Lisbon, Portugal's Freeport Lisboa Fashion Outlet is a very well-liked place for tourists to go shopping.
This outlet is conveniently located in Alcochete, just outside the capital, and is reachable by shuttle bus.
Being the largest store in Iberia, it is well-liked and well known for providing year-round discounts of up to 70% on goods from more than 150 major and minor brands.
With structures no taller than two floors and a small park in the middle, the outlet is intended to resemble a tiny shopping village.
Visitors and residents alike like shopping there because of this. Freeport Outlet Alcochete is a convenient half- or full-day vacation for Lisbon visitors.
The outlet, which is situated across the Tagus River from Lisbon, is a distance of 19 miles (or 30 kilometers). 
Freeport Outlet will be especially alluring to visitors from outside the European Union because they are eligible for VAT refunds on purchases exceeding a certain threshold.
Visitors have the option of joining a guided shopping tour of Lisbon or exploring the outlet at their own pace.
There will be transportation to the Freeport Outlet and other popular shopping areas like Centro Colombo, the Chiado neighborhood, and Avenida da Liberdade.
Feira do Relógio
One of best shopping in Lisbon is the Feira do Relógio (Market of Clocks). It has been offering its tourists a distinctive and really local shopping experience for more over three decades.
The nearly two-kilometer-long market is well-known for selling brand-new products for absurdly low costs.
From flowers, fruits to gadgets this shopping center container ns everything. With vendors from different countries, Feira do Relógio represents the multicultural nature of Lisbon.
Due to the low costs they charge for their goods, both locals and tourists patronize this establishment. It's a terrific place to experience the city's culture and atmosphere.
Avenida da Liberdade
The arrangement of Lisbon, Portugal's Avenida da Liberdade is reminiscent of the Champs-Élysées in France. Luxury retailers including Gucci, Louis Vuitton, Burberry, Carolina Herrera, Loja das Meias, and Fashion Clinic line this chic street.
It links the Praça Marquês de Pombal and the Praça dos Restaurateur's, two parks.
After shopping, there are numerous cafés and eateries in the vicinity, some of which have outside seats and tree cover.
Further, there are other age-old buildings and constructions in the region, like the Monumento aos Restauradores, which symbolizes Portugal's independence from Spain, and the Palácio Foz, an ornate 18th-century mansion with a pink surface and an opulent interior.
Amoreiras Shopping Center
Lisbon's Amoreiras Shopping Center is a prominent and well liked landmark throughout Portugal.
It is covered in mirrored glass panes and was Lisbon's first mall of its scale to open.
There are around 200 domestic and foreign brands operating there, including Trussardi, Stefanel, Ralph Lauren, and Pierre Cardin.
The mall contains 50 dining establishments, 7 movie theaters, and Play Planet, a 150 square meter children's play area.
Three towers that resemble chess pieces make up the Amoreiras Complex. You can view 360-degree of the city through these buildings that contain apartments, offices, and a viewing platform.
Visitors can enjoy the stunning view of the city from this deck, which is situated on the mall's roof.
Bairro Alto
Lisbon's Bairro Alto is a pedestrian-only shopping district. It consist of a places a variety of restaurants, pubs, and stores and has risen up as the area's hub for bohemian culture.
These shoes offers a remarkable advance and fashionable shopping experience, and many are open late into the night.
This enables you to spend the evening exploring Bairro Alto's streets. In Lisbon, the Chiado and Bairro Alto are two of the best areas for shopping.
With its pedestrian area above the Santa Justa Lift, Rua Garrett, and Rua do Carmo, where major retailers like Apple, Nespresso, and Zara are situated, the Chiado is an excellent spot to start.
Armazéns do Chiado, a well-known shopping center located above the metro stop, is another option.
A wider variety of Independent stores are available in the Bairro Alto. Unique products from independent boutiques and vintage shops can be found here.
You may also discover a vast variety of neighborhood bistros and taverns.
Mercado da Figueira
An upscale market called Mercado da Figueira may be found in Lisbon, Portugal. It is enclosed and provides some of the best regional foods available in the city.
From fruits and pastries to raw and cured meats, fresh and tinned fish, wine, honey, and olive oil, the range is extensive.
The store also has a little café with standing-room-only tables. It is one of the best shopping in Lisbon marketplaces and is close to Praça da Figueira.
Real de Todos os Santos, Lisbon's primary hospital before the earthquake of 1755, once stood where this park now stands.
The primary center of the city, Lisboa-Rossio train station, is conveniently located nearby
Centro Comercial Colombo
Lisbon's main shopping center is Centro Comercial Colombo, or Centro Colombo.
It has an astonishing 260 stores and 52 eateries, in addition to eight movie theaters, an IMAX, a 20-lane bowling alley, a playground for kids, a rooftop garden, and a fitness center.
Centro Colombo, which bears the name of the Italian explorer Christopher Columbus, is stunning.
The center hall has a dome with a glass ceiling, and its three floors and passageways have sea-themed décor. This shopping center is considered as the perfect location for sightseeing, entertainment and shopping.
Chiado
One of the most stunning parts of Lisbon, Portugal, is the Chiado district. The region was revived in the aftermath of a severe fire in the late 1980s.
It is now a well-liked location to be seen and be seen.
In this region, where there are numerous upscale stores, old libraries, and attractive cafes, shopping is a terrific hobby.
LX Market
LX Market is a 23,000 square meter space located beneath the 25th of April Bridge in Lisbon.
The pro-democracy Carnation Revolution of 1974 is commemorated by the name of the bridge.
Everything is called at this shopping center and More than 50 stores, eateries, and bars can be found there, from cheesecakes, coffee, and wine to books, pottery, vintage apparel, and antiques everything can be found at this platform. 
The Companhia de Fiaço e Tecidos Lisbonense operated textile plants in the area in the 1840s. These independent shops and cafes now provide one-of-a-kind souvenirs as well as antique and used goods.
Fresh food is also offered for sale every Sunday.
Additionally, the stall exteriors include large-scale street art that is enjoyed by visitors. The ideal location for dining, shopping, and learning about Lisbon's culture is LX Market.
Alegro
Another retail area in Lisbon is Alegro (website in Portuguese), which is situated in Alfragide not far from the city's center and near to Belém.
In addition to traveling there by vehicle or bus, you can also take the free Alegro Bus (website in Portuguese) to get there.
Once you arrive, you can discover a supermarket along with a variety of shops and hair salons. it shuts at midnight, it is open at 10 am and closes at 11 pm except Saturday and Sunday.
Lisbon's Alegro shopping center. If after all this shopping you still want to get some characteristic Portuguese souvenirs, be sure to check at: 13 Portugal-Related Gifts to Take Home. 
Príncipe Real
Principe Real is the spot for you if you enjoy alternative fashion, fashionable shopping, art galleries, and antique stores.
This affluent area of Lisbon is well-known for its mansions, bars, and most notably the EMBAIXADA, an incredible shopping gallery housed inside a 19th-century neo-Arabic palace.
EMBAIXADA centralize several vision stores for every taste, from clothing to home furnishings. You might locate the ideal and distinctive keepsake here that was presumably made by hand.
You will be surrounded by a fantastic setting, as you would be at most Lisbon shopping locations.
The Principe Real Garden is the ideal spot to unwind after a long day of shopping, whether it's lounging in the shade of the trees on a bright day or sipping a cool beverage at one of the kiosks. 
El Corte Inglés (department store)
El Corte Inglés carries everything from clothing to food. The largest department store in Spain, Lisboa, also has numerous outlets in Portugal, including Lisbon and Porto.
The enormous store, which has ten storeys in all, is dedicated to selling whatever you can think of.
You can shop cheaply or purchase high-end clothing and luxury goods from top designers here.
El Corte Inglés is renowned for its fantastic variety of clothing, gadgets, home products and jewelry.
It also offers a gourmet food area that is well worth for visitors.
This department store is every shopper's temptation and the ideal spot to locate everything under one roof, and it is nearby Parque Eduardo VII, a lovely Lisbon Park. If a travel is in your future.
Street Markets
Best shopping in Lisbon street markets provide a distinctive shopping journey that combines the ancient and the new.
These are the place where if you enjoy browsing through antiques, artisanal goods, handmade things, and local art while ambling through picturesque parks and charming streets.
Imagine a 'something' that is impossible to locate anywhere: you will undoubtedly find it in the following street markets! You can fully acquaint yourself with the rich culture of the city at these markets.
Embaixada Concept Store
High-end artisanal goods can be purchased at Embaixada in a beautiful former palace. Independent boutiques providing custom presents, high-end clothing, and odd art may be found inside this previously opulent home.
While LxFactory caters to urban chic and hipsters, the shops in Embaixada often sell things of timeless class.
One of Lisbon's most upscale neighborhoods, the Principe Real district, is where Embaixada is located.
Alfama
Alabama is recognized as the oldest and most distinctive place in Lisbon that is considered a home to a variety of unique shops, tourist attractions, and  vendors.
Like the Rua Garrett or the Avenida da Liberdade, Alfama is not a typical shopping district; rather, it is a place to explore and find specialized stores.
The Largo do Chafariz de Dentro and one of the narrow side streets going from the plaza are the best places to start a shopping expedition in Alfama.
Dona Ajuda
In recent years, there has been a tiny burst of vintage and secondhand stores in Lisbon, and Dona Ajuda is my favorite.
It is a legitimate not-for-profit organization with a staff that is nearly completely made of volunteers and a policy that sees monthly donations of goods to those in need (in 2022, it assisted more than 1600 families).
It is place in a former market and offers a wide variety of high-quality, constantly changing products in a lively atmosphere.
While books and a limited range of furniture can be found in the adjacent market hall, areas that used to be butcher shops are now filled with women's, men's, children's, and home goods.
A little room containing kitchenware is where I always start my search.
Conclusion
I hope you like the best shopping in Lisbon topic which i covered variety of shopping areas that can satisfy a wide range of preferences and interests.
The Lisbon city is an attraction place for those who loved fashion and avid consumers alike, Lisbon offers both modern stores and historic marketplaces.
Lisbon has everything you're looking for, whether you're looking for unique local goods, designer names, or antique. When staying this amazing city, make sure to indulge in the best shopping in Lisbon has to offer.